NATO chief Jaap de Hoop Scheffer unveiled a package of new NATO measures to boost NATO-Ukraine relations, including concrete help in defense reform, agreed by foreign ministers from the 26-member alliance at informal talks in the Lithuanian capital of Vilnius on Thursday.
Speaking after talks with Ukrainian Foreign Minister Boris Tarasyuk -- who said Kiev will have completed reforms by 2008 -- de Hoop Scheffer compared Ukraine's NATO push to a long car drive.
"It is crystal clear that the Ukrainian government will be at the wheel of that car," he said. "There will be NATO petrol stations along the road to refuel that car."
The Ukrainian minister, hailing a "new chapter" in ties with NATO, pledged to forge ahead with reform in his ex-Soviet country, which is wooing the west after the election of President Viktor Yushchenko in December elections.
"We will use our rights for the driver's seat to drive our car cautiously but decisively" towards NATO, Tarasyuk told reporters.
NATO reform package for Ukraine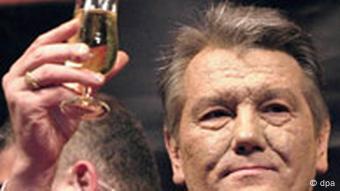 Viktor Yushchenko
Pro-Western Yushchenko (photo) won a struggle over three rounds of presidential elections last year against his pro-Russian rival, Viktor Yanukovych, in what became known as the peaceful "orange revolution."
Since then Kiev has vowed to move decisively westward, seeking accession into the European Union, NATO and the World Trade Organization, while at the same time seeking to keep Moscow happy over its plans.
On Thursday NATO ministers -- meeting for the first ever such talks on the soil of an ex-Soviet republic -- agreed on a three-page package of "short-term actions" designed to help Kiev carry out the necessary reforms.
These included initiatives to strengthen democratic institutions and reform Ukraine's military as well as "public diplomacy," in other words helping to sell the idea of NATO membership to sometimes skeptical Ukrainians.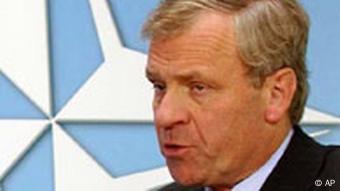 NATO Secretary General Jaap de Hoop Scheffer
De Hoop Scheffer (photo) said the package of measures was "intended to supplement and enhance the existing practical cooperation and political dialogue in order to achieve the maximum impact in support of reform goals."
Tarasyuk was optimistic that Ukraine would stay on the reform course.
"I dare to say that Ukraine may be ready to fulfil the ambitious program of reforms in, let us say, three years' time -- so by the year 2008," he said.
No concrete timeframe
Despite the backing for Ukraine, NATO officials have been cautious to avoid the impression of too much overt support for its NATO entry bid and have declined to name a concrete date for NATO entry.
The alliance is keen not to raise tensions with Russia and are also worried that seeming too eager to get Kiev on board could go down badly in French public opinion at a time when it faces a crucial referendum on the EU constitution on May 29 and the 'no' camp seems on the rise. There are also fears that a rush towards entry could alienate many Ukrainians in the former Soviet republic's pro-Moscow east.
When asked to comment on whether Ukraine would be ready by 2008 to enter, de Hoop Scheffer was vague.
"I don't know… NATO is a performance-based organization," he said, referring to the 26-member alliance's set of entry criteria ranging from military to political standards.
French Foreign Minister Michel Barnier was equally careful, saying membership was only possible "when Ukraine and NATO are both ready."