As NATO defense ministers gather in Brussels to assess the newly expedited and integrated capabilities of their military forces, they'll be taking a hard look at how to bring their political decision-making processes into "very high readiness" too, to match those upgraded hardware skills.
At the same time, one big challenge facing the alliance won't even be on the official agenda of their two-day meeting. NATO leaders must acknowledge that, as much work as they've put into reinforcing solidarity within the structures of the organization, they need to address a massive solidarity problem among their publics, especially with military deployments in some countries dependent on parliamentary approval, a.k.a.: public support.
A Pew Research Center survey shows more than half of French, Germans and Italians would not support the use of military force in a hypothetical conflict with Russia. Going to the defense of an ally is the most serious obligation of any member of the NATO alliance, under Article V of the founding treaty. It's only been invoked once - after the US was attacked on 9/11 - but a resurgent Russia keeps the term on the tip of many nations' tongues, nations such as the Baltic states and Poland, who fear a Russian incursion.
But the incursion of the reality of public sentiment is disconcerting as well. "If I were at NATO, I'd be very worried" about some of these poll numbers, says Bruce Stokes, the director for global economic attitudes at the Pew Research Center. Stokes said many defense officials in both Europe and the US told him in advance they were expecting to be displeased with the outcome of the survey on solidarity; at least one told Stokes he hoped the results would not be published.
'A grave security situation'
Coming off the mock battlefield in Poland last week where he and hundreds of other allied soldiers were honing newly highly-integrated rapid-reaction capabilities, one German officer admitted he felt disappointed to see poll results showing 58 percent of his fellow citizens wouldn't support deploying his brigade in case Russia attacked another NATO country.
Germany's history and conditioned response to military engagement has many people more surprised that 38 percent of Germans actually said NATO should be sent to protect a threatened ally. Yet, just 47 percent of respondents in France and only 40 percent in Italy said NATO should get involved, while those in Spain were almost evenly split. Speaking on background - as he didn't have clearance to go on the record - the colonel concluded somewhat despondently that the more than 11,000 people polled by Pew across eight NATO nations simply didn't understand the gravity of Europe's security situation today. And that's a big concern, he said, since German Chancellor Angela Merkel is just one of the leaders who would need parliamentary approval for any deployment of their military.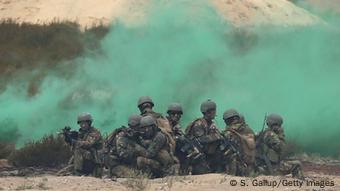 Standing on the sidelines of NATO's biggest joint exercises since the escalation of conflict with Russia over Ukraine, it was obvious European militaries take heightened security threats - and the commitment to commonly defend against them - seriously, whether or not populations do. The Pew Center survey came as NATO rolled out the first demonstration of its new spearhead force and other upgraded responses to the Kremlin's aggressive stance, throwing the whole weight of the 28-member alliance into reassuring vulnerable members on or near the Russian border.
Visiting some of the series of exercises throughout the Baltics and Poland, NATO Secretary General Jens Stoltenberg declared them a "strong expression of the commitment of all allies to protect each other … the core task of NATO." "It's all for one and one for all," Stoltenberg told the press assembled to watch Noble Jump in Zagan, Poland. Asked about the apparent lack of public support for collective defense, Stoltenberg said "of course there will be different political discussion in different allied countries, but the commitment is there, it's strong and it's once again confirmed by the alliance by the implementation of the Readiness Action Plan," of which the spearhead force is a component.
But, standing beside him, Polish Defense Minister Tomasz Siemoniak said the numbers in the survey should be taken seriously. He said both politicians and the media should be explaining to the public that "this peaceful period after the Second World War is now over," citing crises erupting not only in Europe's nearest neighborhood but also the threat of the "Islamic State" and other security challenges in North Africa. "We cannot defend our European way of life if we don't do more for our defense," Siemoniak said. "Doing more also means being ready to sacrifice for your allied countries, and I think it's a task for all of us to convince the public they should be ready to do more before it's too late."
Onus on politicians
NATO knows that regardless of how tuned up the military machine is, the alliance must deal with a still slow political side and outreach efforts that have thus far obviously been insufficient to increase public support. Dr. Joerg Forbrig, a Transatlantic fellow at the German Marshall Fund in Berlin, says NATO should indeed be "shocked" by the results, but that he believes the situation is already gradually improving as the public's "slow digestion" of threat perception takes place.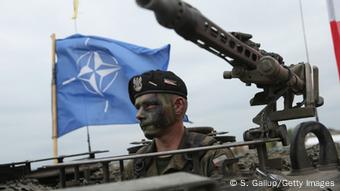 But Forbrig says it's not all citizens' fault they may not understand what's at stake and what NATO allies' responsibilities are to one another. Policymakers need to do more to explain, Forbrig urged, and to decide what a collective response would be when it comes to newer threats. What most people understand as an Article V case and response is a military exchange," he notes, "but "we have a lack of clarity as to whether a cyberattack, a hybrid-warfare style [attack] would constitute an Article V."
But underneath all of that, Forbrig says if a call for collective defense came in, he's fully confident the German government would respond as required. "I can imagine that there are discussions about what constitutes this case what the response can be," he said, "and there certainly will have to be a very hard look at what the response can be in terms of what's there in terms of resources and capabilities … but contracts are there to be honored."
And, Bruce Stokes contends, as disappointing as the numbers may be to NATO leaders, it's important to know what needs to be done in terms of public awareness. "One of the reasons we do these surveys is to hopefully inform the public policy process," he added. "The fact we've stirred the pot here a bit is a very good thing."