NATO Secretary-General Anders Fogh Rasmussen (pictured above) did not beat around the bush at a press conference in Brussels on Monday (02.09.2013). In his view there is no doubt that Syrian president, Bashar al-Assad, let hundreds of innocent Syrians be killed in a poison gas attack on August 21.
"Personally, I am not only convinced that the chemical weapons attack occurred, but also that the regime in Syria was responsible," Rasmussen told journalists.
Without going into detail, Rasmussen said he had seen intelligence information that left no other conclusion. Just what evidence there is, he could not make public, Rasmussen said, adding that NATO, as a matter of course, never commented on intelligence reports.
'Clear signal to dictators'
The top man in the western defense alliance used the regularly scheduled press conference on Monday to spend a half hour talking exclusively about Syria. He called for a military response from the international community, but left open what this should look like. Dictators around the world should be given something to think about, he said.
"The aim of punishment must be to send a clear message, not only to the regime in Damascus, but to any user of chemical weapons in future that such weapons cannot be employed without a strong response from the international community. The goal must be to prevent chemical weapons attacks in future," Rasmussen stressed.
Earlier, the ambassadors of the 28 NATO member states had sharply condemned the use of chemical weapons, but saw no wider role for the alliance in the Syria conflict.
Rasmussen noted that the alliance, however, would continue to protect Turkey from possible attacks coming from Syria. At the request of Ankara, Germany together with the United States and the Netherlands deployed Patriot missile defense systems in Turkey in January along the Syrian border.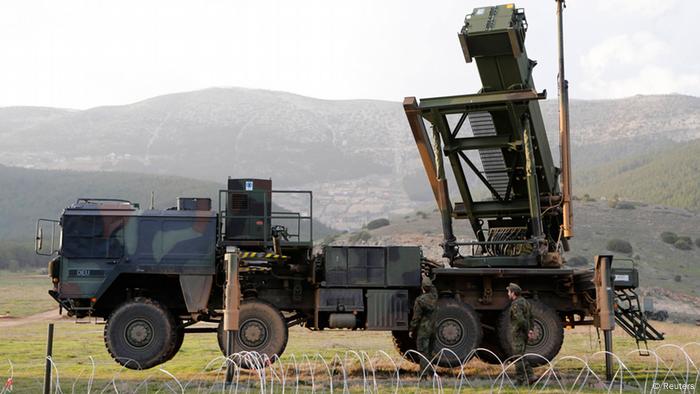 German Patriot anti-missile batteries stationed in Turkey are not meant for attacks
No role for NATO
Rasmussen, at the moment, does not see NATO going beyond its engagement in Turkey and "we're not looking for more", he said, unlike the situation in Libya in March 2011, when the US, France and Britain began a bombing campaign there which was supported by NATO.
In Libya, as opposed to Syria, the UN Security Council passed a 'robust' mandate for intervention. NATO only acts when a member makes a concrete request, a diplomat in Brussels told DW. "No such request has been presented and the US has also not asked for AWACS aerial surveillance support," the diplomat said. As long as there is no UN mandate for action against the Syrian regime, most NATO members have not come forward. Most have yet to establish their official standpoint on how to respond, according to NATO circles.
European consultations
On Thursday, Rasmussen is scheduled to meet with European Union defense ministers in Lithuania to discuss Syria. Over the weekend, EU foreign ministers will also be meeting there. EU foreign policy chief, Catherine Ashton, is said to have invited US Secretary of State John Kerry to attend the meeting. After the British parliament voted not to participate in military action against Syria, France is the only European country prepared to take part in an air campaign along with the US.
"We cannot comment on the vote in Britain and the planned vote in the US. Those are internal affairs," said Ashton's spokesman, Michael Mann.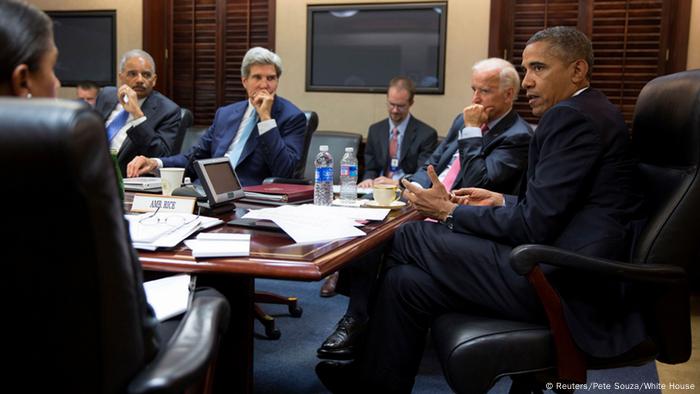 So far, the US has not requested help from NATO in the Syria conflict
US President Barack Obama's intention to ask Congress for approval for any military intervention in Syria has been welcomed by Rasmussen. "It is not easy for democracies to responds militarily. It is important to win over the public and that takes time. That may be frustrating, but that's how democracies work," he said.
Rasmussen added that he was glad he lived in a democracy, but even so, there seemed to be a certain degree of impatience. "The international community cannot just sit back and watch as hundreds of people are killed in this barbaric way," he said repeatedly.
No military solution
Rasmussen admitted, like many critics of military actions against the Assad regime, that there was no military solution to the civil war in Syria. "I am thoroughly convinced that for any long-term solution we need a political process to resolve the Syrian conflict," the NATO chief said, without mentioning what that process could look like.
As for Germany, if NATO decides in the coming days or weeks to deploy surveillance aircraft or use its joint fleet for an attack, the German government would have to decide whether German troops should withdraw from those planes and ships. That is what happened with Libya in 2011. But, if German troops were to participate in actions against Syria, that would require a special mandate from the German parliament.