A fresh day of strikes and protests were held across France on Thursday against plans to keep French citizens working until they are 62, rather than the current retirement age of 60.
Walkouts have hit schools and transport hardest - with only around one train in two running nationally. Fifty percent of flights at Paris Orly have been cancelled and 40 percent at the Charles de Gaulle airport and other airports across the country.
President Sarkozy has said he will press on with the pension reform plans regardless. The bill has already passed France's lower house of parliament and will be debated next month in the upper house, the Senate.
Labor Minister Eric Woerth, in charge of steering the bill through parliament, told reporters: "We haven't changed. We are very firm on the core of the reform, which is the retirement age."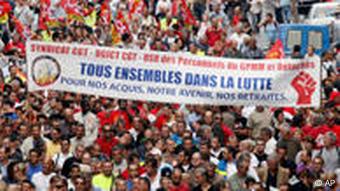 An estimated one to three million took part in national strikes earlier this month
Thursday's 24-hour industrial action is the follow up to strikes two weeks ago, where between one and three million French workers took to the streets to fight the reforms. The Unions said they expected more people on the streets for the latest round of protests.
Reforming the system
Under current rules, French men and women can retire at 60, but they only get a full pension if they have paid social security contributions for a given period, which for most working people is 40.5 years.
Under the new law, the number of years to get a full pension is due to increase to 41.5 years and the minimum retirement age is to go up to 62.
Currently retirees can still get a full state pension, regardless of the number of years worked at age 65. The new law calls for this to gradually increase to 67 by 2018.
The government argues the reform could save 70 billion euros ($90 billion) by 2030 and help reduce France's current public deficit of 8 percent of GDP. They also say it is necessary to curb a growing deficit in the pension system.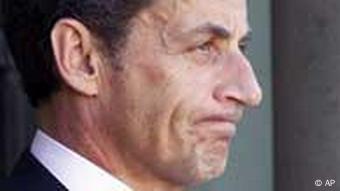 The pensions issue is central to Sarkozy's reform programme
"If you don't reform it, it simply won't be viable and we won't be able to pay French people's pensions," Labor Minister Woerth said.
'A battle for justice'
Unions and opposition politicians say the plan puts an unfair burden on those who might struggle to meet the 41.5-year threshold - particularly women, part-timers and the former unemployed.
Socialist party leader Martine Aubry said on Wednesday: "We will throw all our force into the battle because pension reform is a battle for justice and for the republic."
They argue that money would be better saved by the introduction of taxes on certain bonuses and the highest income bracket.
Author: Catherine Bolsover (Reuters/AFP)
Editor: Andreas Illmer