According to Thailand's foreign ministry, Thein Sein's visit marks "a significant milestone of Thai-Myanmar relations."
A statement described the occasion as an opportunity to strengthen ties, "particularly those in support of Myanmar's ongoing economic reform and development efforts for the benefits of both countries and the region as a whole."
Investment in development and infrastructure for Myanmar are expected to be a particular focus of the meeting between Thai Prime Minister Yingluck Shinawatra and President Thein Sein.
While Myanmar has much to gain, closer business relations are also in Thailand's interest. Myanmar possesses vast mineral resources, which have never been fully exploited, and also boasts a potentially lucrative agricultural and tourism sector, ripe for investment.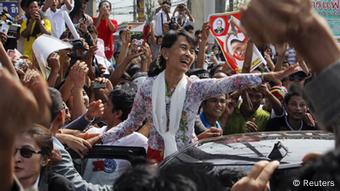 Suu Kyi's visit threatened to overshadow a previously planned trip by Thein Sein
On Sunday, Thein Sein was invited to a major planned port and industrial complex, Laem Chabang, 100 kilometers (62 miles) southeast of Bangkok.
Fast track to India
Thailand hopes to persuade Myanmar to build a similar port in Dawei on Myanmar's southeastern coast - an 8.6-billion-dollar project which would be built by the Italian-Thai Development Company. The firm won a 60-year concession to build and operate the port when Myanmar was still under the junta's rule.
The signs are good, the Thai premier said on Monday. "In our talks, I reaffirmed the commitment of the Thai government to push forward with this cooperation with Myanmar in regard to the development of the Dawei deep sea port to have concrete progress," she said.
The plan is to link Dawei and Laem Chabang, cutting transport time between central Thailand and Chennai in India.
"Shipping time between Thailand and India could be cut in half," Arkhom Termpittayapaisith, chief of Thailand's economic development think tank - the National Economic and Social Development Board - told Thein Sein.
Thein Sein is expected to sign "memoranda of understanding" for that project and others in Myanmar during his trip.
Lingering problems
Extensive social and economic ties already exist between the two countries, which share a 2,300-kilometer border, although there are tensions.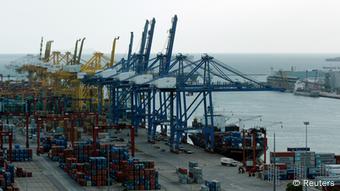 Thailand hopes Myanmar will build a similar port to Laem Chabang
Thailand is home to large numbers of refugees from Myanmar who have fled ethnic conflict with the government.
Bangkok also has concerns about heroin and methamphetamine from Myanmar being smuggled across the frontier.
Thein Sein had originally been scheduled to visit Thailand in late May to attend the World Economic Forum in Bangkok. However, this clashed with opposition leader Aung San Suu Kyi's trip to the country - her first overseas trip for over two decades – and Thein Sein canceled his trip amid speculation he might have been upstaged.
Another planned visit in June was also postponed because of "unfavorable circumstances," thought to refer to sectarian violence near Myanmar's border with Bangladesh.
rc/act (AFP, AP, dpa)