Voters in Myanmar, formerly known as Burma, took to the polls on Saturday for its first by-elections. The vote takes place just over one year after the National League for Democracy (NLD) was victorious in the country's first open elections after military rule.
Voting started at 6 a.m. local time (0030 UTC) and there were "few early turnouts unlike the 2015 general elections."
Saturday's by-elections will determine 19 seats in the parliament, which is less than 5 percent of the civilian mandates. Six of the seats were not contested in the November 2015 general election due to security concerns and the remaining 13 seats are available after the parliament member died or took another position in government.
The by-elections will offer a rare glimpse into how Myanmar citizens feel about Suu Kyi, who won the Nobel Peace Prize in 1991 and is an international symbol for non-violent protest. However, there is rising criticism of her for her handling of the issues facing Myanmar.
Many see Suu Kyi as working too closely with the military that ran the country for 50 years and still controls key levers of government.
The party will face its toughest challenge to the north in Shan State, where tens of thousands have been displaced by a surge in fighting between the army and ethnic insurgents.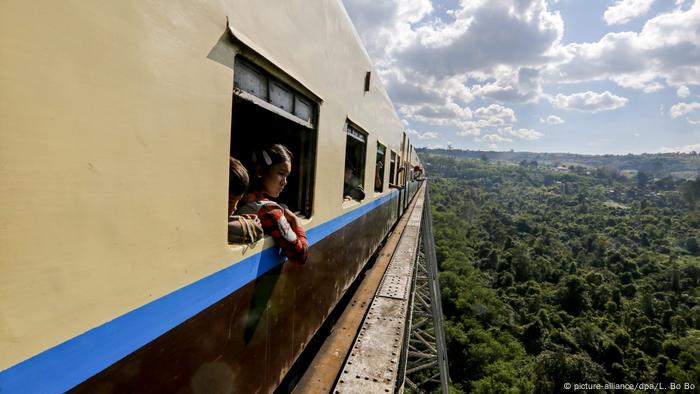 The train from Mandalay passes over Gokteik viaduct in Shan State
One year not enough
While the government has enacted some reforms, there is still tense ethnic fighting and slow economic growth in the country.
In a televised speech on Thursday, Suu Kyi acknowledged the government has not lived up to expectations.
"We know that we weren't able to make as much progress as people had wanted…one year is not a long period," said Suu Kyi.
NLD lawmakers said voters were frustrated over low-level corruption and because employers paid some of the lowest wages in southeast Asia.
Ethnic tensions at forefront
Suu Kyi also said during her speech Thursday that the government would not allow an international investigation into the government's treatment of Rohingya Muslims in the state of Rakhine on Myanmar's western coastline. The head of the United Nations refugee agency (UNHCR) in Bangladesh strongly condemned the actions against the Rohingya, calling it "ethnic cleansing." A UN report released in February said the Myanmar army committed mass killings against the Rohingya, and tens of thousands of Rohingya were forced to flee to Bangladesh.
In Rakhine State, the party will face a strong challenge not only from the local ethnic minority Arakan National Party but also the military-backed USDP.
kbd/jm (AP, dpa, Reuters)