Muslim worshippers held prayers outside the sacred complex on Monday, instead of passing through the gates, in a show of protest against the new security measures.
The hilltop in Jerusalem's Old City, known to Jews as the Temple Mount and to Muslims as the Noble Sanctuary (Haram al-Sharif), has often been a flashpoint for hostility between Israelis and Palestinians. Any perceived changes to how the site is managed can spark tensions.
Israel closed the site for the first time in decades on Friday after three Arab Israeli citizens opened fire in the compound, killing two police officers before being shot dead by security forces. The decision to shut the compound for Friday prayers sparked angry protests from Jordan, the custodian of the Muslim-administered site, and from Palestinians.
Police reopened the site on Sunday with new security measures, including extra cameras and metal detectors.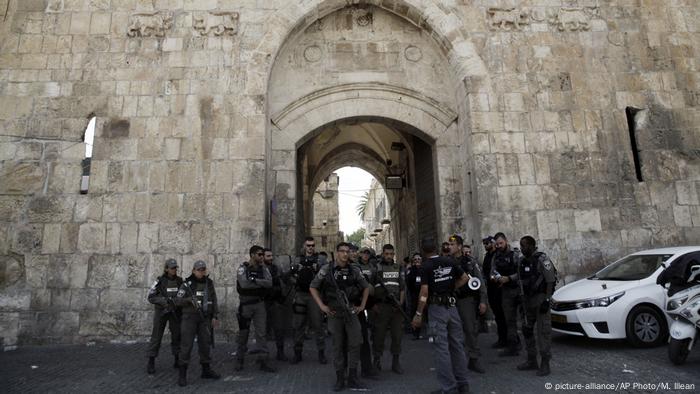 Israeli border police stand guard at the Lion's Gate in Jerusalem's Old City following last week's deadly shooting
Call to boycott
The Waqf, Jordan's Islamic authority that manages religious affairs at the site, responded by calling on the faithful to "reject and boycott all the Israeli aggression measures, including changing the historical status quo including imposing the metal detectors."
In a statement issued with other Islamic groups, it urged Muslims "not to enter the mosque through" the detectors but to "pray in front of the gates of the mosque and in the streets of Jerusalem."
Several hundred people appeared to heed those calls, attending midday prayers on Monday outside the site's two main entrances.
Israeli police spokesman Micky Rosenfeld said the security measures would remain in place to "ensure and prevent further incidents or attacks."
Jerusalem police commissioner Yoram Halevy said the metal detectors were necessary for the site to reopen.
"I assume that with time they will understand that this is not terrible," he told Army Radio. "When I go shopping on Friday I pass through a detector at the mall…We see them everywhere they have become a part of our lives."
The Temple Mount is the holiest site in Judaism and the nearby Western Wall is the holiest place where Jews can pray. Home to the al-Aqsa Mosque and Dome of the Rock, it is Islam's third-holiest site after Mecca and Medina in Saudi Arabia.
Focus of tensions
Israel seized East Jerusalem, where al-Aqsa is located, in the Six Day War of 1967 and later annexed it in a move that was never recognized by the international community.
Although the site has seen frequent clashes and protests, gun attacks there are rare.
Jerusalem is still in the grip of a series of Palestinian street attacks that began in 2015, although the violence has slowed. Since September 2015, Palestinian attackers have killed 43 Israelis, two visiting Americans and a British tourist. Israeli forces have killed more than 254 Palestinians in that time, with authorities describing most of the dead as attackers.
nm/rt (AFP, AP)