Israeli Prime Minister Benjamin Netanyahu said Saturday the Temple Mount in Jerusalem would "gradually" reopen on Sunday.
"I decided that as of tomorrow [Sunday], in the framework of our policy of maintaining the status quo, we will gradually open the Temple Mount, but with increased security measures," the prime minister said in a statement.
New security measures include the installation of metal detectors and cameras around the holy site.
On Friday, three Arab-Israeli assailants opened fire on police in Jerusalem's Old City before fleeing to the site – known to Jews as the Temple Mount and to Muslims as the Noble Sanctuary (Haram al-Sharif). The armed men were shot dead by security forces.
The hilltop in Jerusalem's Old City is sacred to both Jews and Muslims. It is considered the third-holiest site in Islam and the holiest in Judaism.
Israeli officials said the attackers had come from the flashpoint holy site, which includes the Dome of Rock and the Jordan-administered Al-Aqsa mosque.
Following the assault, the authorities shut down the site and closed the Al-Aqsa mosque for Friday prayers, which led to protests by Jordan and Palestinians.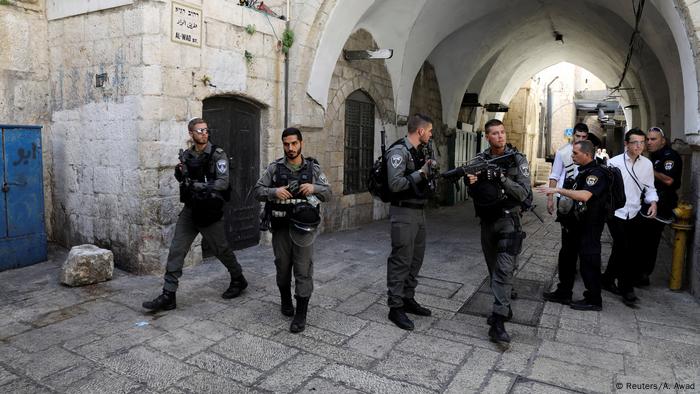 The gunmen were then killed by security forces
Call for restraint
On Saturday, Adnan Husseini, the Palestinian Authority's Jerusalem governor, called the closure "unprecedented" and warned the situation was "dangerous." It is the first time the mosque has been closed since 1969.
Noon prayers at the Al-Aqsa mosque in the compound are usually attended by tens of thousands of Muslims from Israel and the West Bank on Fridays. Unable to gain access to the site, they performed prayers in the streets near the Old City on Friday instead.
Palestinian President Mahmoud Abbas slammed the attack in a telephone call with Israeli PM Netanyahu but also said closing the area could have repercussions.
United Nations Secretary General Antonio Guterres also condemned the attack and his spokesman said: "This incident has the potential to ignite further violence. All must act responsibly to avoid escalation."
Jordan is a custodian of the compound in Israeli-occupied east Jerusalem. On Friday, government spokesman Mohammad Al Momani called on Israel to end the closure, which he described as an "attack on the right of Muslims to practise their religious rituals in their holy sites."
Focus of tensions
Israel seized East Jerusalem, where al-Aqsa is located, in the Six Day War of 1967 and later annexed it in a move that was never recognized by the international community.
The site has often been a flashpoint for clashes and protests, although there has seldom been gunfire.
Jerusalem is still in the grip of a series of Palestinian street attacks that began in 2015, although the violence has slowed.
Since September 2015, Palestinian attackers have killed 43 Israelis, two visiting Americans and a British tourist. Israeli forces have killed more than 254 Palestinians in that time, with authorities describing most of the dead as attackers.