Although pop stars are a contemporary invention created by the mass media, even two centuries ago, Wolfgang Amadeus Mozart would have understood how to use the media's influence to become successful, according to Dirk Hewig, president of the German Mozart Society.
"Mozart would have taken part in television shows and events," he said. "He wanted to be heard, and if he was alive today, I could imagine that he would be a pop star of some sort."
Though the horse-drawn carriages and cobbled streets of his day are a far cry from the private jets and chauffeur-driven stretch limos today's celebrities enjoy, Mozart toured Europe a number of times in his 35 years. The opener was a four-year event that kicked off when he was just six years old and stormed through some 70 cities and royal courts across the continent.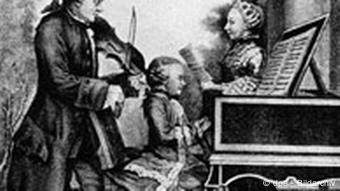 Mozart's father played the role of instructor, tutor and manager
While proceeds from the initial tour went mainly to Leopold Mozart, Wolfgang Amadeus' father, the younger Mozart would have been happy to have the extra income from television appearances, CD sales and royalties to finance the luxurious apartments, trips to casinos and evenings out he enjoyed, according to Hewig.
The Mozart brand
Known by name to nearly everyone in the world, regardless of their affection for classical music, Mozart's music is impossible to avoid. "Eine kleine Nachtmusik" -- whether recognized as "Serenade No. 13 for strings in G major" or not -- has been used to sell everything from pancakes to cars. He can be heard piped through the telephone while on hold as well as by passengers waiting for the next train in Munich's subway stations.
But it's not only the music that brings in the money, especially as 2006 has been named Mozart Year in honor of his 250th birthday on Jan. 27. Salzburg's Mozartland, which bills itself as "the ultimate shop for Mozart fans," offers everything from Mozart chocolates to sweatpants bearing the composer's name.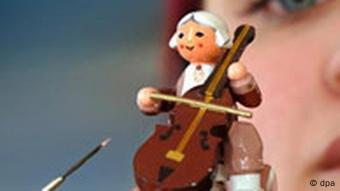 Child composer whose works astonished adults of the period
"The 'Mozart' brand is one of the best known in the world," said Arthur Oberascher, head of the Austrian National Tourist Office, estimating the brand's value at about 5.4 billion euros ($6.5 billion). "It is no wonder we are seeing such a profusion of by-products."
A well-documented genius
But even more than the abundance of Mozart merchandise flooding the market, the extensive documentation of Mozart's life, including diaries and hundreds of letters he wrote, add another layer to interpretations of his music and virtually guarantee that even strangers to classical music find something about him that catches their interest.
"Mozart's music brought an additional dimension to my life, and it's my opinion that this 'drug' can be administered to anyone," said Rudolf Dörler of the Stuttgart Mozart Society. "His letters also show a struggling, positive person who continually gives encouragement in a number of ways."
The themes of Mozart's letters cover the same issues as can be found in today's celebrity gossip pages. Some of the letters' touch on the erotic, others border on obscene and still more detail his financial concerns, the death of his mother and the anxiety his father caused him.
Unusual tones for the times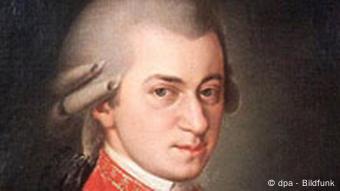 Mozart experienced a variety of financial problems and died in debt
Under the demanding eye of his father, a successful musician in his own right, Johann Chrysostom Wolfgang Amadeus Mozart composed his first piece of music at the age of five, wrote the first of 22 operas when he was 12. A more gifted child prodigy has yet to be found, according to Hewig.
Mozart's developed a musical style unlike what audiences of the day were accustomed to, and ultimately resulted in him failing to get a regular job with one of Europe's royal courts. It also meant he had to make sure the music he wrote sold successfully.
"Mozart was uncompromising when it came to the quality of his music," Hewig said. "But he wanted it to be well received, not to compose obscure music for small groups."
To do it, Mozart worked hard, composing music in 30 of the 35 years he was alive, creating an oeuvre of about 630 pieces, including 27 piano concertos, over 40 symphonies and such famous operas as "The Marriage of Figaro," "The Magic Flute" and "Don Giovanni," which he is rumored to have finished in six weeks.
"Mozart was supremely confident of his skills," Dörler said. "From today's point of view, he had reason to be."