Some might be tempted to think that Nina Hagen's best days are behind her. The 49-year-old singer is, after all, an icon of the 1980's in Germany.
But somehow, Hagen's distinctive, heavily made-up features keep appearing in the media, and of late, the punk diva has been resolute on expanding her horizons as well as her fan base.
The youth-oriented radio station Eins Live will bestow its annual lifetime achievement "crown" on Hagen at an awards ceremony on Thursday night.
German moviegoers also currently have the chance to see Hagen on the big screen alongside her actress daughter, Cosma Shiva Hagen. Appropriately, mom plays the evil queen to Cosma's Snow White in a comic production of the classic fairytale.
"1,008 different aspects"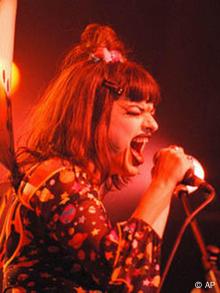 For those who prefer Hagen when she's singing, there's a new album out, though it's not exactly punk. Proving she's comfortable with branching out as she matures, Hagen instead recorded a selection of swing standards. And to those who would dare to question her choice, Hagen has a ready answer.
"Because the Mother of Punk has a 1,008 different aspects and is a unique artist," Hagen said.
But how do punk and swing go together, genre purists pressed on?
"Hello? I'm the one and only Nina Hagen on this planet. Just enjoy me," the Mother said, reassuringly.
There are more ways now than ever before to enjoy Nina Hagen. Even if you're not into her music or her movies, you can still snap up one of the ultra-hip items from her new line of clothing and accessories, called -- what else? Mother of Punk.
Colorful past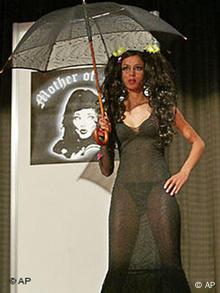 A model wears a dress from the Nina Hagen Mother of Punk collection
Hagen's biography is just as colorful as her resume. She was born in 1955 in East Berlin to famous actress Eva Marie Hagen and writer Hans Hagen. Her parents divorced when she was two, and her mother married the dissident poet-songwriter Wolf Biermann. Hagen's early attempts at a career in acting failed, but unperturbed, she started her own band.
When her step-father was expelled from East Germany in 1976, Nina and her mother followed him to the West. Hagen soon secured a recording contract, resulting in the Nina Hagen Band's eponymous debut punk album. Hagen dissolved her band in favour of a solo career in 1979, and went on to achieve a level of notoriety, if not quite fame, both in her home country and abroad.
Hagen celebrates her 50th birthday in March of next year, but like many other aging rock divas, she shows no sign of slowing down. When asked how she's dealing with the milestone birthday, Hagen said: "Just watch me while I'm working -- there's your answer."