Four in five Africans make their living through agriculture. However, according to the latest figures from the UN's Food and Agriculture Organization (FAO) and World Food Program (WFP), 11 million people still suffer from food shortages in the Sahel region alone. The organisations say that poor families have used up their food stocks and now rely on buying expensive food products.
2012 was a difficult year for the farmers in the region. In general, farmers here rely on small subsistence farms and/or livestock, both of which are often subjected to extreme weather conditions. "It is a very risky form of agriculture, no water, very little access to inputs. So it's at a low level of productivity," James Tefft from the Food and Agriculture Organization in Ghana told DW. "And when prices move, they're in a very difficult situation to make their ends meet."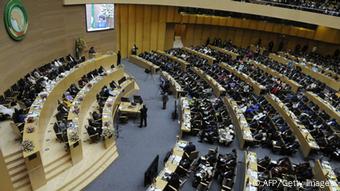 The AU has acknowledged that targets have not been met
Maputo Declaration
As Africa's population is expected to double in the next 27 years, according to a recent report by the Population Reference Bureau, there is a call for increased production. The African Union has proclaimed 2014 as the "year of agriculture and food security." Ten years ago African leaders met in Mozambique and adopted the "Maputo Declaration," under which member states agreed to pledge 10 percent of their budget to agriculture. They also agreed to aim for a six percent increase in agricultural production every year.
At a meeting of African leaders in July 2013, however, the AU acknowledged that only 10 of the 54 member states, amongst them Burkina Faso, Ethiopia and Ghana, have actually reached the 10 percent mark. Together with international partners and other stakeholders, the governments agreed to launch a new initiative to end hunger by 2025.
Encourage intra-African trade
Francisco Mari from the German non governmental organization "Brot für die Welt/EED" (Bread for the World), is sceptical about the AU's strategy. "Money is not the solution," he says, "Ghana, for instance, has achieved the 10 percent target but most of the funds go into the technologization of agriculture. They have a subsidy program for tractors. Agriculture in Africa is usually practised at a subsistence level, where farmers generally have two and a half hectare plots. So to them tractors are of little use."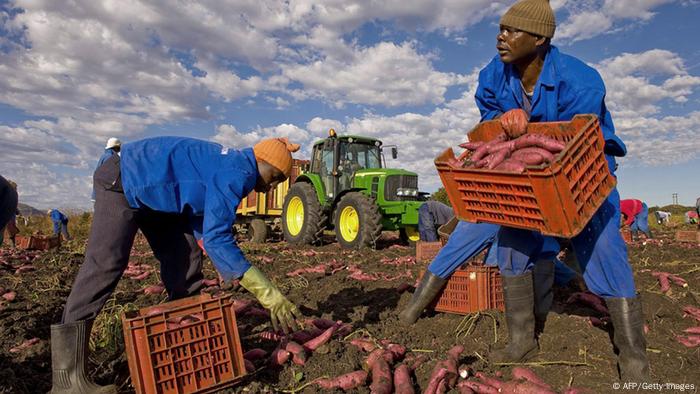 While new technology benefits some, most people live off small-scale farms
In order to reach those who really need the help, says Mari, the African Union should support small-scale farmers. He also argues that trade between African countries should be promoted, in order to address the food security issue.
According to the FAO's James Tefft, governments should learn from and build on some of the more successful agricultural projects. "There is a lot of innovation out there. There are lots of good models of success, but maybe it's only reaching a small segment of the population."
The AU has named the fight against hunger as one of its top concerns. As countries try to meet their reaffirmed production targets, for the time being they will focus on the thematic agricultural year in 2014.