A report from an inquiry reveals that least 35 male students were subject to sexual abuse at a school in the western German city of Darmstadt between 1961 and 1994. This number is in addition to presumed 130 cases at another school in the region, the infamous Odenwaldschule.
The teacher, who for decades had abused the children at these schools, was sentenced to four years in prison in 2005 in 15 counts of abuse but died in 2008.
The full extent of the teacher's series of assaults is only beginning to emerge, with strong indications of the school districts having played a role in a cover-up.
'Symbolic' compensation for decades of abuse
The undersecretary of the state of Hesse in charge of the state's Ministry of Education and Culture, Manuel Lösel, commented that the report documented "unspeakable acts."
"I am angry and speechless," Lösel said, promising to pay 10,000 euros ($11,000) to each victim as a "symbolic" compensation for pain and suffering. Lösel also stated that the school system had failed in recognizing the full extent of the abuse.
The document stressed that many students reporting abuse at the time had apparently not been taken seriously - not by their teachers nor by their parents.
Lösel promised that all schools in the state would be briefed by the end of the year about preventative methods to avoid sexual abuse.
More victims expected to come forward
One of the two lawyers spearheading the investigation, Claudia Burgsmüller, said that the teacher had used systematic strategies to manipulate students to give in to his will.
"His personality was marked by an incredible display of narcissism," Burgsmüller said, adding that the teacher even worked as a liaison between students and teachers.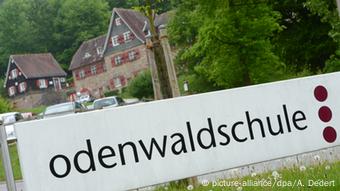 The Odenwaldschule boarding school had to close its doors for good after the scandal
"We expect further victims to come and approach us after this report," she said.
Along with her colleague Brigitte Tilmann, who had previously served as the president of the regional appellate court in Frankfurt, Burgmüller worked on investigations into both abuse cases, with the details emerging from the Elly-Heuss-Knapp-Schule in Darmstadt leaving the future of the school in question.
The report about the Odenwaldschule, which was published in 2010, had cast a long shadow over the institution. With successively fewer registrations at the boarding school, it initially filed for bankruptcy and eventually had to close altogether.
ss/jil (dpa, epd)