The revelations of past abuse at the non-religious boarding school near the southern town of Heppenheim in the state of Hesse come at a time when Catholic institutions in Germany and elsewhere are facing similar allegations.
Only the school principal Margarita Kaufmann and general manager Meto Salijevic remain in office following the meeting on Saturday, March 27.
The school says 33 ex-pupils have reported they were sexually abused in the period from 1966 to 1991.
Philipp Sturz, one of the school's 30 trustees, declined to confirm a report in the news magazine "Der Spiegel" that 40 ex-pupils had lodged complaints and more ex-teachers had been named in the scandal.
Abuse allegations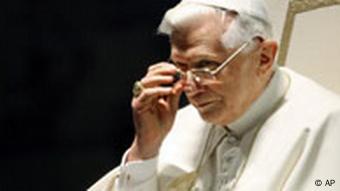 Did the pope turn a blind eye to abuse allegations?
Most of the sex abuse scandals which have come to light recently in Germany have focused on the Catholic Church, and the employment of a convicted pedophile priest in 1980 in the city of Munich when Joseph Ratzinger – now Pope Benedict XVI – served his term as archbishop. Some have questioned whether the pope played a role in the alleged cover-up of some abuse cases.
Meanwhile, secular and Protestant groups have admitted they also failed in that era to adequately police pedophile attacks on children in care.
Last week, Germany appointed a special ombudsman to receive and investigate allegations of sex molestation dating from the 1950s in Catholic and other private schools.
Christine Bergmann, a former German minister of family affairs, is tasked with studying cases that happened too long ago to be investigated by police. Germany does not prosecute child sex abuse after the victim turns 28.
A spate of revelations of abuse and cruelty by clerics and evidence of a cover-up by the church hierarchy has also emerged in other European countries like Ireland, Austria, the Netherlands and Switzerland, as well as in the United States.
rb/dpa/AFP
Editor: Toma Tasovac