In a survey commissioned this week by the newsmagazine Stern, 16 percent of Germans questioned said they liked television talk show host Anne Will even more since she announced over the weekend she was in a lesbian relationship. Only seven percent said she appealed to them less.
Will had appeared at a public event over the weekend with Miriam Meckel, a media professor who is also a member of Deutsche Welle's broadcasting board. Posing for pictures, Will confirmed that Meckel was her partner and, all smiles, added: "We want to keep our private life private."
Most of the people surveyed said they were indifferent to her announcement. Around two-thirds, or 64 percent, said they liked her just as much as before. Over 500 people were polled.
Both are media-savvy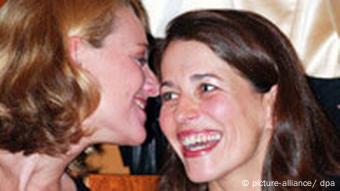 Will (r.) with Miriam Meckel, a professor and TV host
Will hosts a prime-time political talk show on German public broadcaster ARD. The 41-year-old is also the former news anchor of "Tagesthemen," ARD's premier newscast.
She and Meckel, who is 40, have appeared at public events together for the past five years, but have never spoken about their relationship in public.
Meckel is also a TV host, for a commercial broadcaster, and from 2001 to 2002 was state secretary for media and government spokeswoman for the German state of North Rhine-Westphalia. She is currently the director of the Institute for Media and Communication at the University of St. Gallen in Switzerland.