Huawei, Haier, Yingli and Sany are all Chinese companies that are more or less well known in Germany. In recent years around 700 Chinese companies have established offices in Germany's most populous state North Rhine-Westphalia alone. Germany's excellent infrastructure and its close proximity to other European countries make it an attractive location for investment. Sany has invested over 100 million euros in its German subsidiary near Cologne
"We are noticing that investors are becoming increasingly interested," says Petra Wassner, Chief Executive Officer of NRW Invest. "Quality is improving and larger companies are coming here. Today there is real investment and even production." NRW Invest is a company that helps foreign companies looking to invest in North Rhine-Westphalia.

During a meeting with German and Chinese businesspeople and a delegation from the Chinese Chamber of Commerce, China's Vice Minister of Commerce Chen Jian showed optimism about the extensive trade relations between Germany and China. German investment in China is now almost two billion euros and Chinese investment in Germany is worth around 900 million euros. But this is only the beginning, says Chen: "Investment is bound to increase for both sides in the future."
Major cultural differences
Though Chinese investment is nothing new to Germany, intercultural challenges, such as language, continue to complicate relations. English is still not widely used in Chinese business, let alone German. But there are also major cultural differences which pose a problem. On top of that, Germans seem to fear selling off their technology and expertise and that there will be an outplacement of jobs and an increase in acquisitions. That's why German companies have had reservations about Chinese investment, Wassner believes. "But we are a lot more optimistic these days as we have more and more information how acquisitions work."


Dürkopp Adler near Bielefeld was taken over by the Shang Gong Group in 2005
Six years ago, the Chinese investment group SGSB bought 95 percent of the industrial sewing company Dürkopp Adler AG's shares. Workers at the company and also the banks felt insecure and were worried about possible demands from their new major shareholder in Shanghai. "Personally I thought it was a major turning point in Dürkopp Adler's company history", says Reinhard Kottmann, Dürkopp Adler's head of controlling and accounting. After working for the company for 30 years, Kottmann was also curious about the new shareholder.
Win-win situation

Before the Chinese came, Dürkopp Adler had been working with a stakeholder from southern Germany, so it wasn't easy to switch over to Shanghai. Dürkopp Adler was confronted with the common cultural differences in mindsets and views but also with regard to product quality and business procedures.

Yet Shanghai proved to be a much needed ally during the financial crisis, when Dürkopp Adler's turnover was down 60 percent. Despite the crisis, its Chinese investor pumped in money. "Without that, the company probably would not have survived," says Kottmann.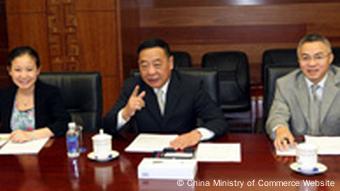 Chen Jian (middle) is optimistic about Sino-German trade relations
Both sides are profiting from Chinese investment in Germany. Chinese companies employ around 5,000 people in North Rhine-Westphalia alone. And they are much sought after jobs. Nonetheless, there are not enough specialists with knowledge of the Chinese and German languages and cultures. It would surely boost trade and investment if there were more multicultural experts.

Chen is pleased with Sino-German investment. He admits there are cultural differences but believes they can be overcome if both sides continue to work together so constructively.
Author: Chi Viet Giang / sb
Editor: Grahame Lucas