Just as China's first forays into investment in small African countries went largely unremarked, so has its recent European expansion with infrastructure projects, company takeovers and sovereign debt purchases.
Poetry-writing former government official turned millionaire businessman Huang Nobu is the latest to follow, agreeing, according to Reuters, to an 85.8-million-dollar deal to buy a 300-sq-km remote Icelandic farm. Whilst he maintains it is a purely commercial venture for a hotel, golf course and other leisure services, others suspect part of a broader Chinese strategy to build influence in the resource-rich Arctic. Whatever the truth, experts say it fits with a larger pattern as China's growing wealth and desire for diversification pulls it deeper into Europe.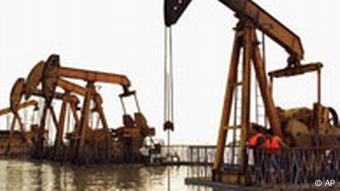 China is increasingly looking for new sources of energy for its growing economy
Estimating the true scale of Chinese investment in Europe is difficult, the European Council on Foreign Relations (ECFR) says, which this year published a report on China in Europe that explicitly compares its approach there to that in Africa. Many Chinese firms operate through financial centers lacking in transparency, such as Hong Kong and Grand Cayman, making tracking them all but impossible. But there seems little doubt that the numbers are rising fast.
European support
The ECFR says Chinese firms and banks committed some 64 billion US dollars to European contracts in the six months to March 2011. Much recent Chinese finance went to the troubled euro zone periphery: 30 percent to Portugal, Greece, Italy and Spain, and another 10 percent to central and eastern Europe.
Last week, Britain and China voiced support for plans for London to become a major offshore trading centre for the Chinese currency, a move that would further cement the city's position as a global financial center. Despite occasional rows over human rights and other issues, Berlin and Paris have also been keen to court Beijing.
But several of China's projects, some strategists say, may in the long run prove to be more than just business. Vast port projects in Piraeus, Greece and Naples, Italy - the latter also the site of a major NATO base - worry some in European defense and foreign ministries. Occasional deals, purchases of sensitive technology firms, for example, have been turned down on national security grounds. But in general, Chinese investors have found Europe much easier territory than the United States, where rejection and suspicion have been somewhat more common, although not enough to stop mutual dependence rising swiftly.
China has been actively investing in many African countries
"The problem is that Western nations have taken a very short-term view when it comes to China. They view it as a good source of investment and ignore any longer term issues," said Alan Mendoza, executive director of the Henry Jackson Society, a London think-tank looking at national security issues. "It's going to be very difficult to stop this, but it is worrying. We've already effectively ceded large chunks of Africa to the Chinese. There needs to be much more focus on what this means."
European debt
China has also emerged as a major buyer of European sovereign debt, crucial to keeping euro zone borrowers afloat. Whilst precise numbers are hard to come by, the ECFR says it estimates up to 25 percent of China's reserves may now be euro denominated.
In non-EU member Iceland, entrepreneur Huang may be feeling the effect of the heightened concern. Iceland's interior minister said the leisure resort deal would be looked at closely because of strategic concerns.
Huang says he may yet pull out altogether. "It is part of the West's misinterpretation of China," Huang told Reuters. "Everything China does, no matter whether it's done by the country or any individual, they would think of it as part of a 'China threat.'"
Growing suspicion
But with Western powers apparently increasingly nervous of Beijing's rise, and with disputes over alleged intellectual property theft, computer hacking, currency strength and other issues simmering, it could become a growing issue. Chinese firms faced something of a popular and political backlash in Africa, and some warn a similar dynamic may be rising in Europe.
Earlier this year, Britain turned down an offer from a Chinese businessman to buy ageing aircraft carrier HMS Invincible for scrap or leisure use and is seen likely to reject a similar bid to purchase her sister ship Ark Royal.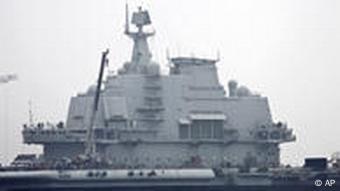 A Ukrainian carrier purchased ostensibly as a casino ended up in the service of China's navy
A Ukrainian carrier purchased ostensibly as a casino ended up in the service of China's navy, and there have long been suspicions that any military kit bought by its firms is stripped for intelligence. "This is an area in which the Chinese are particularly vulnerable and also frustrated," says Nigel Inkster, a former deputy chief of Britain's Secret Intelligence Service (MI6) and now head of transnational threats and political risk at London's International Institute for Strategic Studies. "There are often reasonable grounds for suspecting that what appears to be an ordinary commercial venture may be something altogether different, and it is very difficult for a Chinese corporate to prove that negative."
Some worry an element of paranoia is entering the debate. "The value of this deal is actually very modest," said Steve Tsang, professor of contemporary Chinese studies at Nottingham University, referring to the proposed Icelandic land purchase. "It is easy to read too much into the capacity of the Chinese to plan strategically over the very long term and see Chinese businessmen as all agents of the Communist Party. I think it is proper for the Icelandic authorities to check carefully and do their due diligence but not for the rest of the world to get worried about a real estate/tourism deal."
Reuters
Editor: Sarah Berning