Morocco's moderate Islamist party, the Justice and Development Party (PJD), won a parliamentary election for the first time, preliminary results showed late on Saturday.
"We thank the Moroccans who voted for the PJD and we can only be satisfied," PJD secretary general Abdelilah Benkirane told reporters.
The PJD will require other parties to govern as part of a coalition, and Benkirane acknowledged his program would be amended to win over prospective partners.
With 288 out of the 395 seats so far allocated, the party had captured 80 seats in Friday's election, Interior Minister Taib Cherkaoui told a news conference. The ministry was to release final results on Sunday.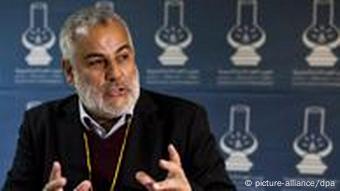 Benkirane said his party was prepared to concede ground
That number is almost double the 45 seats won by the second-place Independence Party, headed by Prime Minister Abbas el Fassi, which has led a five-party coalition government since 2007. The PJD has gradually increased its share of the vote since it won just eight seats in 1997, winning 47 seats at the last elections in 2007.
Unlike the prohibited Islamist opposition group Justice and Charity, the PJD pledges allegiance to the country's monarch King Mohammed VI. However, Benkirane has courted controversy in the past with derogatory comments about Berber people and homosexuals.
After a new constitution was overwhelmingly approved in a July referendum, the king must select the country's prime minister from the party with most seats. Previously, the monarch - who still retains control over the military, foreign policy and the judicial system - had discretion to select his own prime minister.
Author: Richard Connor (AFP, Reuters, dpa)
Editor: Nigel Tandy