In the little mobile phone shop in a Stockholm suburb, the walls are dotted with the latest cell-phone models. Large-screen cell phones hang next to conventional keypad phones.
A colorful sign on the door that reads "Mobile Compost" informs people that they can also turn in their old phone models here. The box itself is inconspicuous: square, with a see-through window and a slit in the lid.
Yasser Stan is a salesman in the shop. He has had good experiences with Mobile Compost. It used to be that people wondered what to do with their old mobile phones, he said: "They disposed of the batteries correctly, then they just threw the rest in the plastic recycling."
Valuable metals
Some people didn't even do that much. But "when they saw the sign for Mobile Compost, then they came with their phones the next time," he said.
Anders Svensson, who was in the shop to buy a new phone, explained he was keeping his old cell phone because he needed the new one just for work. When the old phone is no longer in use "then it will probably land in a drawer at home," he said. "My daughter can play with it."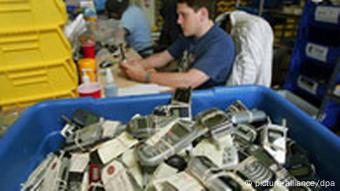 Cellphones are collected in the US as well
Svennson's plan is not unique: some 15 million old telephones are tucked away in drawers somewhere in Sweden. Taken together, cashing them in could be worthwhile. One ton of cell phones contains a kilogram (2.2 pounds) of silver and some 300 grams of gold, according to the organization Sweden Refuse.
It's a real gold mine, said Jan-Olof Eriksson, whose company El-Kretsen collects outdated electrical appliances and recycles them for cash.
"Mobile phones are technologically complicated, with a lot of precious metals inside them. Those resources could replace the ones that are taken out of the ground," he said
Environmentally friendly
At this point, some 40 percent of the gold that Swedish mining operation Boliden produces comes from recycled electronics.
"Its a good use of existing resources, because the materials can be recycled many times," Eriksson said.
What's more, it's good for the environment. A correctly recycled cell phone can't release toxic agents into the environment. Mobile Compost is in fact a British company that takes the phones apart and recycles them. Three euros ($4) from the cost of each phone goes to the development agency Plan, which works on environmental projects. To date, some 250,000 phones were collected.
Collecting phones could be a tall order though, says El-Kretsen's Eriksson.
"The mobile phone is the best loved piece of electronics equipment after radio and TV," he said. "it is practical, you can be reached anywhere. And it offers a load of functions that make your daily life easier. Many people have a little museum at home of all their old cell phones."
Eriksson loves his cell phone -- he won't be so fast to recycle it, he said. But the Mobile Compost initiative is a good way to start changing peoples' attitudes, he added.