Mitt Romney is used to success. He received his degree at the elite university Harvard not only in one, but in two subjects: business and law. He then worked his way up to the position of vice-president at the Boston consulting company Bain & Co, and in 1984, founded the successful private equity firm Bain Capital. He's a multi-millionaire, was the governor of Massachusetts and successfully organized the 2002 Winter Olympics in Salt Lake City. But in the battle for the presidency, he has managed to make some staggering goof-ups.
First, it was just some small things, which were not well received by those voters whose bank accounts are not filled to overflowing. The devout Mormon enthusiastically talked about his wife Ann's "couple of Cadillacs" and that he didn't earn a lot of money as a speaker - although he pocketed $370,000 (285,000 euros) within a year.
The blunders didn't only increase, their dimensions also grew. During his visit to Europe, he affronted the British by criticizing their organization of the Olympic Games. At his nomination speech at the Republican convention in Tampa, he didn't once mention the war in Afghanistan or the US soldiers in combat. And immediately after the attacks on the US embassies in Cairo and Benghazi, in a situation in which you usually close ranks in the US no matter which party you belong to, he criticized the Obama government and even contorted the facts in the process.
Insulting half of the population
But the last straw, the comment which really sparked public outrage and even let conservative commentators shake their heads in wonder, was Romney's comments during a private campaign rally in mid-May. A secretly filmed video of the event, which was made public earlier this month, showed the Republican presidential candidate brushing off half of the Americans as irrelevant for him as voters - and even offending them as freeloaders.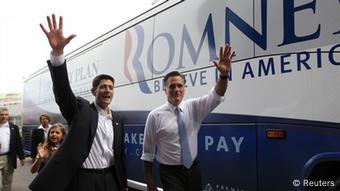 Romney and his running mate Paul Ryan have their work cut out for them on the campaign trail
"There are 47 percent of the people who vote for the president no matter what," Romney said at the $50,000-a-person fundraiser. "There are 47 percent who are with him, who are dependent on government, who believe that they are victims, who believe that government has a responsibility to take care for them, who believe that they are entitled to healthcare, to food, to housing - to you name it. That it's an entitlement and that government should give it to them."
This not only cast a damning light on Romney, it also distracted from those issues with which he actually wanted to pit himself against Obama: the sluggish economy, high unemployment and the horrendous national debt.
"I am running for president to create a better future - a future where everyone who wants a job can find a job," Romney said at his inaugural speech at the convention in Tampa. And he said he had a plan which would create 12 million new jobs.
Contrast to the President
Romney's five-point plan includes making the US independent of foreign oil and gas, ensuring better education and schooling, securing new trade agreements and reducing the national debt. In addition, he wants to support tax breaks for small companies and do away with mandatory health insurance. Romney is banking on a competitive society in which everyone is the architect of their own fortune and the government hardly plays a role.
"As opposed to having a president who thinks that government creates our economy and allows it to grow, I have an understanding that it's free people and freedom that drive our economy," Romney said.
But the problem of the 65-year-old is also that a lot of what he is now condemning, he used to himself represent. The healthcare reforms pushed through by President Obama was based on the health insurance in Massachusetts, which Romney introduced as governor with great fanfare. Romney also shifted to the right in the course of the primary campaign in social issues, such as abortion and same-sex marriage - in efforts to pass ultraconservative competitors such as Michelle Bachmann or Rick Santorum.
But his success will ultimately not be dependent on securing the votes of staunch Republicans. In order to win against President Obama, Romney has to convince independent voters and frustrated Democrats. His credibility and his aura as a successful manager have suffered greatly under all these antics. On November 6, it remains to be seen whether this businessman and politician can nonetheless continue his successes with his latest undertaking.