The stream of refugees coming across the Mediterranean from northern Africa to southern Europe continues unabated. Each week, hundreds of people risk their lives to try and enter the European Union on unseaworthy boats in search for a better life.
Italy's coast is often their first destination and the place they see the best chance to reach land. Many migrants climb into boats and set their sights on the Italian island of Lampedusa.
Locked up in a refugee camp
When one of the boats doesn't reach the shore, the number of victims is very high and the world's attention briefly turns to Sicily and Lampedusa. If the migrants are caught on their journey, they are put in a camp where they are supposed to be held for only for a few days, but in reality they often spend months waiting. The public and media usually has no access to the camps.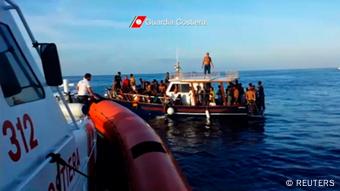 Hundreds have died in the waters off Lampedusa
The EU has promised some 30 million euros ($41 million) to Italy in order to cope with the refugees. Interior Minister Angelino Alfano was pleased, saying that for him it's "not an Italian problem, but a European one" and that EU members should look for a solution together.
Most of the boat people who make it to the shore and land in a refugee camp end up being deported back to their country of origin. Italy's immigration policy is very strict. Only migrants with an employment contract can stay. Italian aid organizations criticize this as unrealistic since hardly any employer would hire someone they have never met from Mali or Eritrea.
The refugees realize this and prepare for life as an illegal immigrant. Whoever can, escapes from the camps, disappears to the north of Italy or northern Europe. There are hundreds of thousands of people without documents in Italy as well as France, Germany and the Benelux countries. They are not registered with any government offices and don't exist to the authorities. Yet they still need to sleep somewhere, eat and take care of themselves.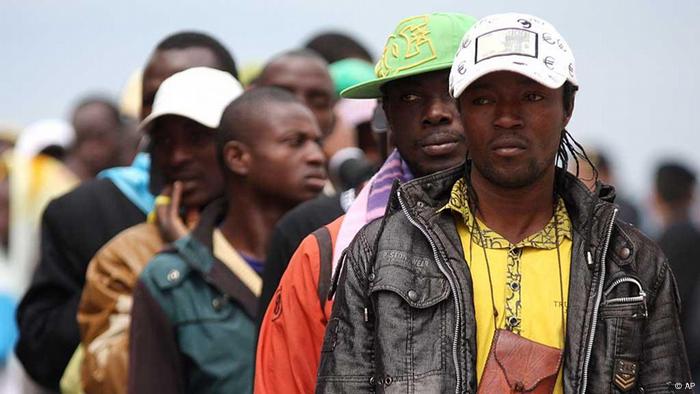 African migrants, transferred from Lampedusa, arrive at Taranto's harbor, Italy
"Irregolari" and those who profit from them
Piles of laundry in car wrecks, camping stoves and tents under highway bridges. Whoever walks through Milan with open eyes sees the traces of the "irregolari," the people with no official immigration status. They live in abandoned factories or houses without any gas or electricity.
Khaled from Tunisia has been working in Italy for two years. The 42-year-old sleeps in a broken-down car without license plates. The trunk is locked and holds his valuables and his laundry is neatly stacked on the backseat. One of the windows is broken and at night the temperature drops and the cardboard he uses to cover the hole doesn't keep out the cold.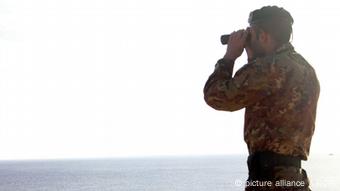 Waiting for the next boat of refugees: Italy's coastguard
After spending eight months in a refugee camp on Lampedusa he was transferred to a camp on the mainland from which escaped from there. Looking for work, he stopped in Milan. Every morning he goes to a roundabout near the highway where a group of Africans is already waiting. In his backpack he's got a bottle of water and two sandwiches.
Between the commuters in their cars there's a few lorries and pick-up trucks driving very slowly. Those are the "caporali" who recruit them for the day. They check out the men who offer to work for next to nothing and decide who they will take along.
"It's the slave market of Milan," union representative Franco De Alessandri said. He secretly filmed the scenes and presented them to the police. But nothing has changed. "These workers are not comparable to Italian workers. They have no house, no family here," he added. "They are alone and without papers, without rights. They are being abused right, left and center."
They work as day laborers on construction sights or fruit pickers for tiny salaries. Without a contract and without health insurance. Franco de Alessandri is furious about the situation. For Italian workers, they are competition who work for lower salaries. For the refugees, the work is the only way to make money, even if it doesn't amount to much.