Jules Sawa Akili rises slowly from his green camping mat. He is in the middle of an improvised camp made up of plastic sheeting and umbrellas that has been set up on Pariser Platz right in front of the Brandenburg Gate. It is damp, the sky is grey, and the smell of grilled sausages wafts across the square, though Akili, an asylum seeker from the Democratic Republic of Congo, no longer registers it. He pulls his knee-length leather coat closer to him.
"I haven't eaten anything in eight days, and not drunk anything in three," he says. "I feel weak." Twenty-three other people on hunger-strike are sitting or lying around him. There were more of their number yesterday, but three had to be taken to hospital. "We all have one aim: we want to be treated like human beings, we want to be allowed to travel and work," says Akili.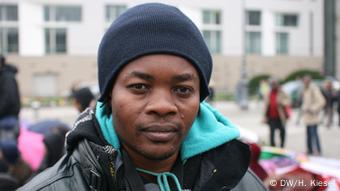 Akili says the asylum seekers want to be treated as human beings
The situation in the center of the German capital has now entered a critical phase. More and more hunger-strikers are collapsing physically. Many of the refugees are skeptical of the help being offered by paramedics, fearing their intervention will weaken the protest.
They do accept the help of Jürgen Hölzinger. A slim, white-haired, retired urologist, Hölzinger sits among the refugees, examining them, feeling their pulses. He massages an Afghan man's neck. "It can happen very quickly," he says. "Suddenly they're lying there and don't show any pain reflexes." He has to stay alert, since "dry" hunger strikes can lead to kidney failure and heart arrhythmia. He is naturally concerned for the asylum seekers' health, but he also respects their cause. "It's amazing that these people aren't just begging for help anymore, but fighting for their rights."
Concern and reluctance in Berlin
These protesters have traveled to the Brandenburg Gate all the way from Bavaria, where a similar camp was cleared in Munich last week - in order to prevent deaths, the authorities said.
The debate on asylum policy has recently gotten more urgent in Germany. The images of the refugee disaster off Lampedusa are still fresh, and emotions are raw. Protests in Hamburg escalated into violent clashes, while demonstrators in Cologne attempted to hijack a broadcaster. In an attempt to keep the situation in Berlin calm, the city's Interior Minister Frank Henkel has promised that the Brandenburg Gate camp would not be cleared by force.
The Brandenburg Gate is of course one of Germany's main tourist attractions, and the asylum seekers starving in front of it have now apparently been accepted as part of the scenery - tourists often have their photos taken in front of the demonstration.
Green party- and Berlin senate member Canan Bayram briefly raises an eyebrow when she sees this, but right now she does not feel like dealing with the more surreal aspects of the demo. She has come with her party colleague Luise Amtsberg, a Bundestag representative, to talk to the group's spokesman.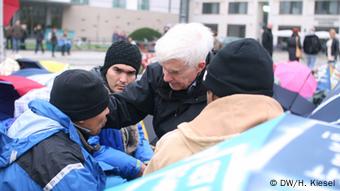 Hölzinger offers the hunger strikers whatever help he can
The two politicians promise to contact those responsible for the asylum applications, and plead with the strikers to at least start drinking again. "We could soon have someone dying on Pariser Platz," Bayram says. "You will get too weak too quickly if you don't drink," Amtsberg warns them.
Time is running out
The protesters' faces look tired, even distracted. They have resorted to the most radical protest they can engage in without resorting to violence. During the debate with the politicians, many of them say they can't give up now - or else nothing will ever change.
In Germany, asylum seekers are put in communal housing, have only limited rights to travel within the country and are not given work permits. "Some of us have been waiting for two or three years for asylum applications to be acknowledged," says Akili. "Refusing food is the only path we have left."
Amtsberg and Bayram promise to return in the afternoon - hopefully with news. Akili watches them go, his legs trembling, and then says, "I have the feeling I could collapse any second."