During a private audience on Monday at the pope's summer residence of Castel Gandolfo on the outskirts of Rome, German Chancellor Angela Merkel discussed topics such as the Middle East and Iran with the pontiff.
"We had a very intense exchange on world politics, especially on the Middle East, but also on how the international community should deal with Iran," Merkel told reporters after the hour-long audience which she described as "very impressive."
Pope Benedict had been very vocal in his calls for a truce in the recent war between Israel and Hizbollah in Lebanon and has also been contacted by Iran's President Mahmoud Ahmadinejad as Tehran faces international isolation for its nuclear program.
Merkel, the daughter of a Protestant pastor and an unlikely star in the Christian Democratic Union (CDU) with its strong Catholic tradition, also told Pope Benedict of her "joy" at his upcoming visit to Bavaria.
The pope travels to Germany on Sept. 9-14 to visit the southern Bavaria region where he grew up. It will be his second visit to Germany since being elected pontiff in April last year.
The meeting was not the chancellor's first. Merkel last met with the pope a year ago when he was in Germany to attend World Youth Day celebrations. But she was not yet German chancellor at the time and spoke to him as the head of the CDU.
This time round, Merkel said that she intended to convey the admiration and respect of her fellow countrymen -- and women for the German-born pontiff.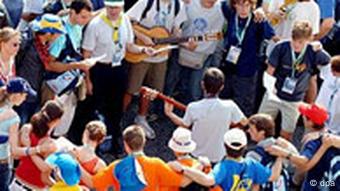 Young Catholics wait for the pope during World Youth Day in Cologne in August, 2005
"I was longing to pay this visit to the pope before he comes to Germany in September," she said before the visit. "I'm very glad that it will happen now. The pope is a great leader of Christianity to which my protestant faith also belongs. But I'm also here to express the respect of all Germans which I represent as German chancellor."
Chemistry just right
Benedict and Merkel are on very friendly terms. Merkel -- a trained physicist who was raised in a staunchly protestant northern German family -- is said to get on nicely with the pontiff from Bavaria. The chancellor once described the pope as a thoughtful theologian with a clear stance in a secular world. After their last meeting in 2005, observers said the chemistry between the two leaders was just right.
Benedict XVI is said to approve of the German chancellor's dedication to the Christian faith.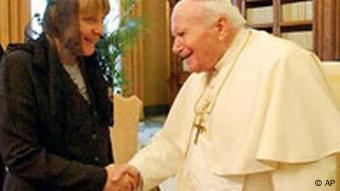 Merkel last met Pope John Paul II in 2003
"I pray because it gives me an opportunity to contemplate," Merkel said. "Our faith makes us aware of the fact that many things are beyond the powers of human beings. But the Christian faith also moves the dignity of human life onto centre stage giving the religion a crucial role in present-day life."
Pope looks forward to return to Germany
In an interview with German news agency dpa, the pope said he was looking forward to visiting Germany and in particular, his native Bavaria.
"In a way I'm looking forward to everything because I somehow was home everywhere," the pontiff said. "But I had unforgettable years in Munich," he said referring to his time when he was archbishop of the Bavarian capital from 1978 to 1982.