Reinhard Grindel took fire at Mesut Özil just days after DFB Manager, Oliver Bierhoff, claimed the playmaker should have been left at home for Germany's World Cup campaign.
Grindel publicly backed national coach Joachim Löw's decision to include Özil in his final 23-man squad for Russia when the announcement was made in June. He appears to have reversed his stance towards the player following the World Cup, however.
"Many fans were disappointed because they had questions for [Mesut] and expected an answer," he told German football magazine kicker on Sunday. "For me it is absolutely clear that, once he returns from holiday, and with his own interests in mind, he should make his views heard."
Grindel's comments echo those made last Friday by Bierhoff, who told German outlet Welt that Özil's decision not to explain his actions after being photographed — along with national teammate Ilkay Gündogan — with Turkish president Recep Erdogan, should have been reason enough to omit him from the World Cup squad.
The players, both of Turkish heritage, were captured posing with the controversial leader at a charity event in London in May, sparking backlash among fans and the media for showing mixed allegiances on the eve of an international tournament.
"The [media] debate just wouldn't stop," Bierhoff said. "In hindsight, I would have tried to deal with this issue in a more decisive manner."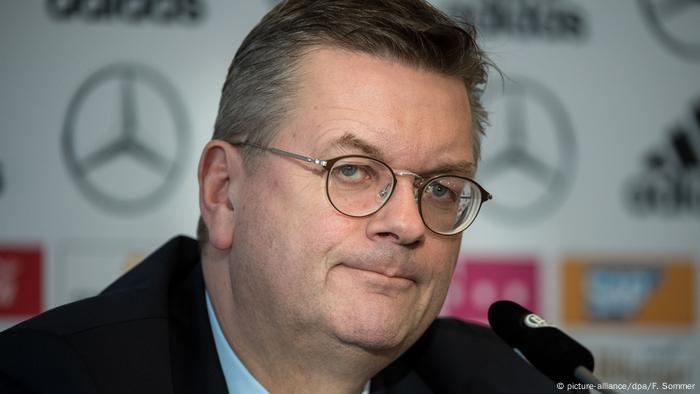 DFB President Reinhard Grindel at a press conference
Özil's father, Mustafa, came to his son's defense on Sunday, stating that he would quit the national team if he were in his son's position, and believes the Arsenal midfielder is often seen as an easy target following international defeats.
"Mesut is disappointed, offended and abused," Özil Sr. told Bild am Sonntag. "He has played for Germany for nine years, he's done a lot for this country, and now he's put down as a scapegoat. If I were him, I would retire.
"He does not want to explain himself anymore, he does not want to always have to defend himself. It's always been said, if we win we win together, if we lose it's because of Mesut Özil."
Özil Sr. also believes Gündogan, who released a statement following the Erdogan meeting, avoided similar issues due to his inferior status in the national set-up.
"With all due respect to Ilkay, he only has 27 caps. Mesut is a bigger name. People want to scold the big names, that's what sells papers"
That Özil, who boasts 92 caps, was one of several senior players to underperform in Russia — the first Germany team since 1938 to exit in the first round hasn't helped matters. While there were always likely to be lingering doubts about his commitment to the national team, it's hard to imagine either official publicly flogging any player had Germany performed well.
It will be interesting, in the coming days and weeks, to hear Löw's stance. In the wake of the Erdogan fiasco, the coach took great care not to get drawn into a political debate with the World Cup just days away. Instead, he praised Germany's strong multicultural community and stressed the complications involved when coaching players from myriad ethnic backgrounds.
Having only recently signed a lucrative new contract with the DFB, Löw is under huge pressure to reinvigorate this Germany team following their disastrous title defense.
He chose not to step down after Germany's group stage exit, and will begin planning for the future upon his return from holiday. Unless Özil publicly resigns from Die Mannschaft in the meantime, there is one issue that will need addressing before all others.