The DFB's criticism of Mesut Özil for meeting with Turkish President Recep Tayyip Erdogan in London has rebounded against the German football association. While taking Özil to task for political naivete, politicians also say that the DFB unfairly singled out the Turkish-German midfielder.
"I think everyone involved in this affair should look inward," said German Foreign Minister Heiko Maas in Berlin on Monday. "I see very few people who I would say have behaved well at all."
After weeks of silence, Özil announced in a series of three extended tweets that he would no longer suit up for the German national team because he didn't feel welcome. He specifically blamed DFB President Reinhard Grindel, a former conservative politician, for encouraging a xenophobic atmosphere in the team. Grindel and DFB team manager Oliver Bierhoff had linked Özil's Erdogan meeting with Germany's disastrous performance at the 2018 World Cup.
A spokesperson for Angela Merkel said only that the chancellor had always appreciated Özil as a player and respected his decision. But members of Merkel's Cabinet were far more critical of Germany's football functionaries.
"It's a warning sign if, because of racism, a great German football player like Mesut Özil no longer feels wanted in his country or represented by the DFB," said German Justice Minister Katarina Barley via Twitter.
In a statement on its website, the DFB rejected the charge of racism and said it would have been happy if Özil had remained a national team player.
"The DFB stand for diversity," it wrote.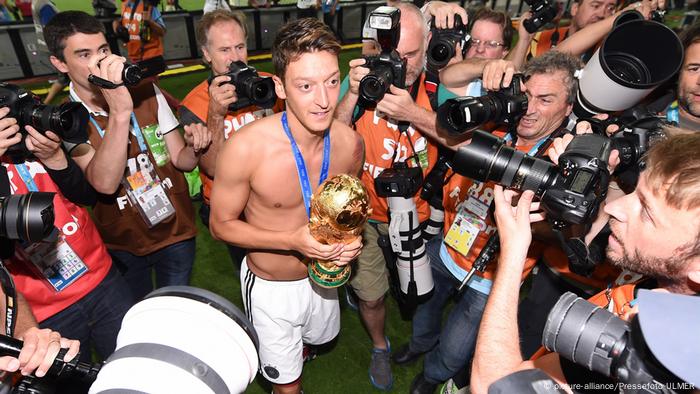 Happier days: Özil was a mainstay of Germany's 2014 World Cup winning team
Calls for change at the DFB
No one in political Germany is happy about Özil's cordial meet-and-greet with Erdogan, who has been accused of trying to undermine Turkish democracy and of ignoring the human rights of his political opponents. At the same time, leaders from nearly all Germany's major parties said that Grindel and Bierhoff's attacks on Özil had encouraged a split in public attitudes toward national team players with or without foreign roots.
"I, too, wish he hadn't taken that photo with Erdogan, and criticism of him for it is allowed, but we cannot tolerate having him racially abused or made into a scapegoat for Germany crashing out of the World Cup," Green Party sports spokesman Erhard Grundl told Deutsche Welle. "It was the one-sided accusations of DFB President Grindel and DFB Sports Director Oliver Bierhoff that made that sporting defeat into a DFB-wide crisis …The current leadership should ask whether it's up to the job."
"Özil's resignation shows that the DFB isn't equal to the challenges of a modern immigration society," said Britta Dassler, sports spokeswoman for the business-friendly Free Democratic Party (FDP). "The time has come for a debate about how the word's largest football association should handle such questions in future. And personnel changes shouldn't be ruled out."
"All in all, significant damage has been done to German football, and I have the impression it would have been better if everyone concerned had talked more with and less about one another," conservative Frank Steffel, the head of the Sports Network parliamentary group, told DW. "In sporting terms, Mesut Özil will always remain part of our 2014 World Cup championship team."
Muslim leader: 'This is about racism'
The Özil case is deeply unsettling to German society because the country's national team has been previously held up as a model of successful integration of people with foreign roots into mainstream society. That image has now been shaken.
"Özil's photo was wrong and his explanation isn't convincing, but at least as disastrous are the actions of the DFB leadership," tweeted Green Party Member of the Bundestag Cem Özdemir, Germany's most prominent Turkish-German political leader. "Grindel is hacking our integration story to pieces. Do they want young Turkish-Germans to start playing for Turkey? The DFB needs a fresh start."
Representatives of Germany's large Muslim community agreed that the affair had damaged the cause of integration and said latent racism inspired some of the criticism of Özil.
"The Özil case has uncovered a deep social wound," Aiman Mazyek, the head of the Central Council of Muslims in Germany, told DW. "Those who act as though this is just about a photo with Erdogan haven't understood and don't want to understand. It's about racism in society."
Read more: The Özil affair: A chronology in quotations
That view was confirmed, if indirectly, by the far-right populist, anti-migrant Alternative for Germany (AfD) party, which interpreted the affair as evidence that multiculturalism had failed in Germany.
"With his farewell tirade, Özil showed himself to be a typical example of the failed integration of far too many people from the Turkish-Muslim cultural circle," tweeted AfD parliamentary leader Alice Weidel.
But Mass cautioned against drawing too many conclusions based on the story of a highly atypical individual.
"I don't think the case of a multimillionaire living and working in England tells you much about Germany's capacity for integration," Maas said.
Turkey praises Özil
Turkish MPs, including one senior minister, commended Özil's move.
"I congratulate Mesut Özil who by leaving the national team has scored the most beautiful goal against the virus of fascism," Justice Minister Abdulhamit Gul posted on Twitter, along with the photo that sparked the controversy.
Turkish Sports Minister Mehmet Kasapoglu also tweeted the photo, writing: "We sincerely support the honorable stance that our brother Mesut Özil has taken."
In a tweet posted before Özil's decision to leave the national side was made public, Erdogan's spokesman Ibrahim Kalin said the footballer's defense of the meeting was "a pity for those who claim to be tolerant and multiculturalist!"