FIFA suspended the Barcelona and Argentina forward on Monday, also fining him 10,000 Swiss francs (9,350 euros, $10,170) for making disparaging remarks about a match official's mother during Argentina's win over Chile on Thursday. He was found guilty of "having directed insulting words at an assistant referee."
"This decision is in line with the FIFA Disciplinary Committee's previous rulings in similar cases," FIFA said of the ruling.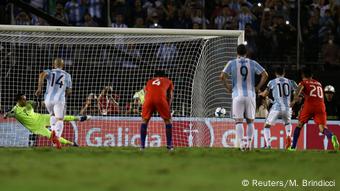 Messi was on target against Chile, and had traveled to Bolivia for Tuesday's fixture - but the ban will sideline him
Messi will therefore miss Argentina's next South American qualifying game for the World Cup, against Bolivia later on Tuesday.
'Federation will appeal as it should'
Argentina team secretary Jorge Miadosqui, speaking from the Bolivian city of Santa Cruz ahead of Tuesday's game, said that Argentina would appeal the lengthy ban against its top star.
"The federation will appeal as it should," Miadosqui said, complaining that Messi had not been warned or sanctioned at the time of the outburst and lamenting a decision reached just hours before kick off against Bolivia. "We feel powerless, surprised."
"I'm angry, Messi is sad, like us. He could have played, he traveled to play, he should have played," Miadosqui said.
Following Bolivia, Messi will miss games against Uruguay, Venezuela and Peru. Argentina currently sit third in the South American qualifying group - the top four progress automatically. However, Messi's presence in the games has proved important to the Albiceleste; Argentina have won five of six qualifiers with him in the team, and one in seven without him.
Messi scored the only goal, from the penalty spot, in Thursday's match against Chile.
msh (AFP, dpa, Reuters)