German Chancellor Angela Merkel has regained her spot as the world's most powerful woman, according to a list published annually by business magazine Forbes.
Merkel, 57, was described as the head of "the one real global economy in Europe" and the "undisputed" leader of the European Union.
Forbes makes note of Merkel's current task of seeking to stabilize EU debt and keep the 17-member eurozone unified in the face of a possible renewed crisis in the single-currency bloc.
The magazine notes, however, that Merkel's increasingly international clout comes amid a waning in domestic support. In Germany, she currently has a 36-percent approval rating, representing a five-year low.
Many Germans are still apprehensive about their country's emerging role as guarantor for a host of eurozone countries currently struggling under mountains of debt, and Merkel has borne the brunt of much of this skepticism.
Born in the West German city of Hamburg, Merkel moved to the East at a young age and spent her youth in the Socialist state. She married quantum chemist Joachim Sauer in 1998, and assumed her role as chancellor in 2005.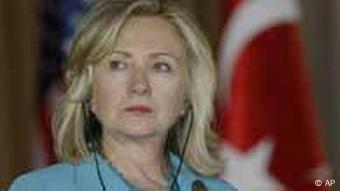 Clinton shot to near the top of the list when she became secretary of state
Following Merkel in the list of the world's 100 most powerful women were US Secretary of State Hillary Clinton, Brazilian President Dilma Rousseff, PepsiCo chief Indra Nooyi and Facebook Chief Operating Officer Sheryl Sandberg. Merkel was the only German to figure in the rankings. Last year's most powerful woman, Michelle Obama, came in at eighth on the list.
"Our list reflects the diverse and dynamic paths to power for women today, whether leading a nation or setting the agenda on critical issues of our time," Moira Forbes, president and publisher of ForbesWoman, said in a statement.
"Across their multiple spheres of influence, these women have achieved power through connectivity, the ability to build a community around the organizations they oversee, the countries they lead, the causes they champion and their personal brands," Forbes added.
Author: Darren Mara
Editor: Rob Turner