German Chancellor Angela Merkel has expressed her sympathies for the victims of the Istanbul bombing and their families. She promised that Germany would continue to fight against terror.
"Today Istanbul was the target, before Paris, Copenhagen, Tunis and so many other areas," Merkel said during a press conference. "International terror changes the places of its attacks but its goal is always the same - it is our free life in free society.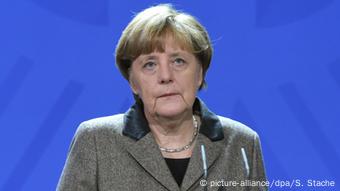 Merkel describes Istanbul attack as a "murderous act"
"The terrorists are the enemies of all free people," she continued. "Indeed, they are enemies of all humanity, whether in Syria or Turkey, in France or Germany."
Foreign Minister Frank-Walter Steinmeier said eight Germans were killed in the suicide attack in Istanbul, which left 10 dead and many injured.
"The Turkish foreign minister ... informed me that according to current knowledge of the Turkish authorities, eight Germans count among the victims," he said, adding that nine others were injured, some seriously. It was originally reported that nine Germans had been killed.
Berlin has warned its nationals to avoid crowds and tourist sites in Istanbul.
Shortly after the blast Turkish Prime Minister Ahmet Davutoglu called Merkel to provide information about the Tuesday morning bomb attack and extend his condolences, state media Anatolia Agency reported.
"Our prime minister emphasized our determination in the fight against international terror groups and that terror targets all countries," a statement from Davutoglu's office said.
In Washington, the White House also condemned the "heinous" attack, saying it stands with Turkey in fighting against terrorism.
Six Germans, as well as Norwegian, South Korean and Peruvian citizens, were among those being treated for wounds at local hospitals, CNN Turk reported.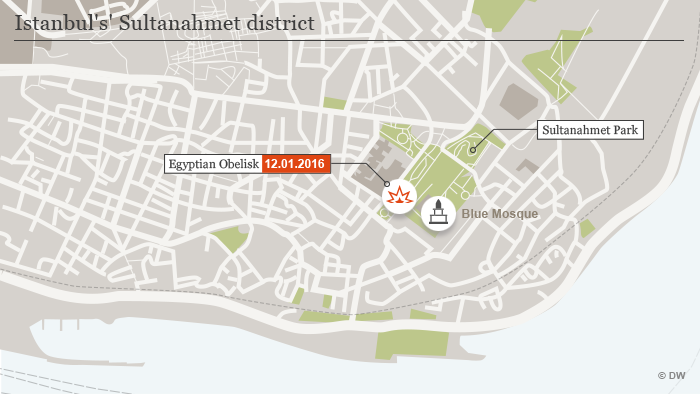 The Norwegian victim was 59-year-old Jostein Nielsen, a Salvation Army officer. Speaking from his hospital bed in Istanbul he told Norway's TV2 that he and his wife were sightseeing when the bomb went off.
"I first heard a bang that I think is what detonated the bomb," Nielsen said. "After that came the real bang. I felt that my knee stopped working. There were human remains all over the place."
His wife, Magna Vaaje Nielsen, was not injured.
"It's a great shock," she told TV2. "One does not think that such things will happen when you are sightseeing."
Nielsen, his left leg damaged, is expected to undergo surgery soon.
The doctors "believe that I will be able to walk again," Nielsen said. "I appreciate that."
Prime Minister Davutoglu told Merkel that everything is being done to treat wounded Germans and a detailed investigation is being carried out. The information is to be shared with German officials.
The blast went off at around 10 a.m. in a park outside the historic Blue Mosque in Istanbul's Sultanahmet district, leaving bodies strewn on the ground.
Davutolgu said in a press conference that the so-called "Islamic State" was behind the attack.
Deputy Prime Minister Numan Kurtulmus said after an emergency security meeting that investigators had determined from body parts that the bomber was a Saudi-born national.
He described the attack as the latest spill-over from the brutal five-year-old civil war in Syria that has seen multiple terror organizations gain space to operate and drawn in regional countries in a struggle for the country's future.
Kurdish, far-left and Islamist militants have carried out bomb attacks in Turkey in the past. The so-called "Islamic State" group carried out two separate suicide bombings last year in Ankara and Suruc, killing more than 130 people.
Germany ranks number one in the origin of tourists visiting Turkey, with more than 4 million Germans visiting last year.
German tourism giant TUI said customers who had booked trips to Istanbul can change their destination without penalty, or postpone their planned trips to Istanbul without penalty, as long as they do so within the next six days.
The Blue Mosque, Aya Sofya and Topkapi Palace draw millions of tourists a year to the Sultanahmet district.
The bomb went off in the ancient hippodrome near the German Fountain, a gazebo structure finished in 1900 to mark the second anniversary of Kaiser Wilhelm II's visit to Istanbul.