In a speech during her first visit to Japan as German chancellor, Angela Merkel said Thursday both developing and industrialized nations need to agree on specific targets to reduce carbon dioxide emissions.
"We have to assume that emerging nations naturally don't want the same responsibility" as industrialized nations, the chancellor said, speaking at a symposium organized by Japan's Nikkei media group in Tokyo.
A more palatable pact for emerging nations
Developing countries such as India and China, experiencing skyrocketing growth rates, are worried that strict environmental regulations will dent their economic boom. They want industrialized nations, the chief polluters, to bear the brunt of emission cuts.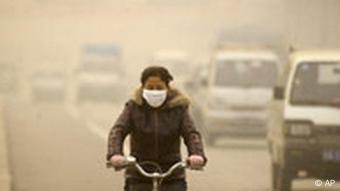 China's rapid economic boom is taking a heavy toll on its environment
Merkel suggested that as a compromise, developing countries should be allowed to increase their emissions per capita while industrialized nations cut theirs, until both sides reach the same level. The model is said to be based on a proposal by Indian Prime Minister Manmohan Singh at the G-8 summit in June in Germany.
That conference, hosted by Merkel, set a non-binding goal of halving greenhouse gas emissions by 2050 within the EU.
Merkel also underlined the need to forge a successor climate pact to the Kyoto Protocol which expires at the end of 2012 and which she helped draw up as Germany's environment minister in 1997.
She however voiced caution about the carbon market, part of the Kyoto Protocol that allows countries that emit gas beyond their
allowance to buy credits from companies or countries below their
target levels. The system also exists for companies in the European Union.
"It is a wise, market-oriented measure but we need to be careful
as it can go in the wrong direction," Merkel said. "For example, if a coal factory merely moves from Europe to a foreign country because it can sell the carbon credit, that's meaningless," she said.
Merkel wants US on board
Merkel said detailed targets needed to be set soon if the world wants to slow global warming.
"The question is, how do we distribute (reduction targets) in the world? I don't believe that it's enough to just agree that everyone will do their best. I don't believe that would yield an impressive result," she said.
Time is running out in the fight against global warming, she said, adding that the United States must be part of any global deal to slash carbon dioxide emissions.
"I think America will cooperate -- America must cooperate. If we can't find a regulatory regime that is accepted by the USA, then China and India will never agree to reduction targets," Merkel said.
The fight against climate change is the overarching theme of Merkel's visit to Japan. Japan is to host the next G8 summit in Hokkaido in 2008.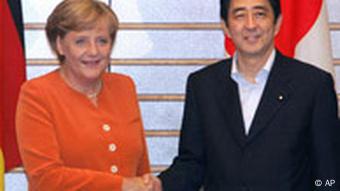 Look no ties! Merkel with Abe honoring Japan's "cool biz" campaign
On Wednesday, Merkel and Japanese Prime Minister Shinzo Abe went into talks to map out ways to work with major polluters to achieve goals for greenhouse gas reductions by pointing out that no one in their delegations was wearing a tie, in honor of Japan's "cool biz" campaign to dress lighter in summer and reduce air
conditioning use.
Japanese opposition skeptical of Afghanistan mission
Separately, Merkel ruffled feathers among Japan's opposition on Thursday by urging the country to maintain its support for the "war on terror" in Afghanistan.
"You don't have to follow the unilateral opinion of the United
States," main opposition leader Ichiro Ozawa told Merkel in a
meeting, as quoted by Tsuyoshi Yamaguchi, the opposition's shadow foreign minister.
Germany is heavily involved in Afghanistan, where it has
contributed some 3,000 troops to the NATO-led International Security and Assistance Force (ISAF) and has six Tornado reconnaissance planes helping to spot Taliban hideouts.