The summit host, Merkel said she was "very, very satisfied" with the agreement but acknowledged that the accord was a compromise that fell short of her hopes for a binding deal.
"Many countries moved on this issue," Merkel said, adding that the accord gave impetus to negotiations beginning in Bali in December to find a successor to the UN-backed Kyoto Protocol on capping greenhouse gases that expires in 2012.
"The very best we could achieve has been achieved," Merkel said.
Piling on the pressure
The chancellor, who holds the G8 presidency, had piled the pressure on US President George W. Bush to bring his country, as the world's biggest emitter of greenhouse gases, on board a process to keep the planet from overheating.
As member states wrangled over the final text Thursday, Bush took a conciliatory stance, saying the United States was ready to take the leading role in a global bid to fight climate change but that China and India must join in.
"The US will be actively involved, if not taking the lead, in a post-Kyoto framework, a post-Kyoto deal," Bush said after talks with British Prime Minister Tony Blair on the sidelines of the summit.
Taking the lead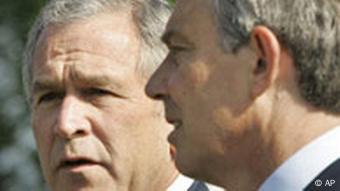 This is Blair's last G8 summit
Blair had said he was holding out hope for a pact on significant emission cuts at the summit that would pave the road to a strong deal at a UN meeting Bali, Indonesia in December as the successor to Kyoto.
"I think there is a very substantial coming together around the need to make sure that we have a substantial reduction in emissions and find the right process and right way to achieve that," he said.
Merkel's aim had been for the world's most industrialized nations to take the lead in setting key benchmarks in the run-up to the UN meeting in Bali.
US resistance
China, India and other developing countries, which have been invited to participate in the summit, are not required to make targeted emissions cuts under Kyoto -- a weakness Washington has frequently criticized.
The United States, the only G8 country that has not ratified the Kyoto Protocol, has flatly rejected any mandatory targets in a new pact.
Bush surprised many last week by offering a counter-proposal in which the United States and up to 14 other big emitters would agree by the end of next year "a long-term global goal" for reducing greenhouse gases.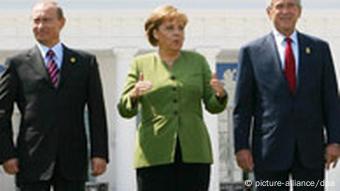 Sharp words have no doubt been spoken
Merkel has insisted that any agreement come within a UN-framework, a condition Bush warmed to at the summit.
Bush sharply rejected accusations that Washington was doing nothing to tackle climate change, telling reporters that US greenhouse gas emissions had declined in the last year despite the fact that the economy had grown.
"We are taking steps necessary to be good stewards of the environment and at the same time advance technologies," he said.
Cool response from climate activists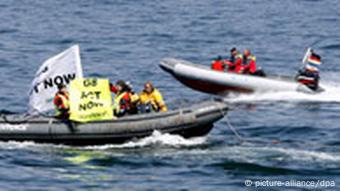 Greenpeace activists tried to reach the G8 summit hotel via boat on Thursday
Climate change campaigners meanwhile called the agreement "weak", saying it failed to commit to serious reduction targets.
"Chancellor Merkel and Prime Minister Blair are trying to portray this as a strong agreement," said Philip Clapp, president of the US National Environmental Trust. "But President Bush didn't give them an inch. The best they could get from him was a statement that their 50 percent-by-2050 emissions reduction proposal would be 'seriously considered.' That's a pretty tiny landmark."
The World Wildlife Fund said that, although some progress towards cutting global emissions had been made, "heads of state failed to give concrete figures and timelines" for cuts.

"In Bali we will see what the agreement is worth," said Hans Verolme, director of the WWF's Climate Change Program. He added that support by the EU, Japan and Canada to halve carbon pollution by 2050 "means we are a step closer to taking real action for the world's climate.
"But real emission cuts still have to be negotiated, and countries must recognize the need for staying below 2 degrees Celsius," he added. "Now is the time for concrete actions."