German taxpayers will be asked to shell out more money - lots more money - to fund the country's army, the Bundeswehr. That was one message that Chancellor Angela Merkel had at a conference of young conservatives this weekend in the city of Paderborn.
Merkel told representatives from her Christian Democratic Union's youth organizations that Germany would be increasing its military spending to 2 percent of GDP, in line with an agreement that NATO states reached in 2014. The country currently spends around 1.2 percent of GDP on the Bundeswehr.
"In the 21st century, we won't be getting as much help as we got in the 20th," Merkel said. "We need to greatly increase the Bundeswehr budget to get from 1.2 to 2 percent."
To meet that target, Germany's defense spending would have to rise to some 60 billion euros ($65.8 billion). The current planned military budget for the year 2020 is 39.2 billion euros.
Merkel cited pressure from US president Barack Obama. According to the Center for American Progress, the United States spent over $600 billion (550 billion euros) - or 3.4 percent of its government-estimated GDP of $17.947 trillion - on defense in 2015. And there has been criticism from across the political spectrum, including from both Republican presidential candidate Donald Trump and onetime Democratic hopeful Bernie Sanders, that America's NATO allies allow the US to shoulder an unfair share of the mutual defense burden.
So are the other members of NATO in essence freeloading - or to quote Obama "free riding" - off of Washington's enormous military spending? The answer is anything but clear-cut.
Question of perspective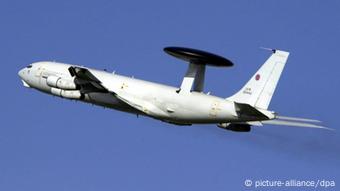 The US foots 40 percent of the bill for NATO AWACS
The contributions that NATO members make to the costs of the alliance are calculated with reference to their gross national income. Currently the US bears around 22 percent of NATO costs, compared with 15 percent for Germany, 11 percent for France and 10 percent for the United Kingdom.
According to official White House figures, the US contributed $685 million (624 million euros) of NATO's $2.8 billion (2.5 billion euros) in common-funding budgets. Recent Department of Defense information indicates that the US has typically spent less than $500 million (456 million euros) to support NATO operations per year.
NATO members pay the United States to maintain military bases in their countries. And US defense contractors are major recipients of NATO military spending and are among the main lobbyists for Washington to get NATO allies to increase defense expenditures. So some money comes back into the US economy.
On the other hand, at a NATO summit in July Secretary-General Jens Stoltenberg said the alliance's mission in Afghanistan cost roughly $5 billion (4.5 billion euros) a year, of which $3.5 billion (3.1 billion euros) came from the United States. Also, approximately three-quarters of NATO troops there are American. And the White House says that the US pays around 40 percent of the costs to maintain the NATO Airborne Early Warning Control (AWACS) program and the acquisition of the Alliance Ground Surveillance system.
Combined with the respective percentages of GDP spent on defense, such numbers suggest that there is an imbalance between what the United States contributes to mutual security and what its allies do. And there is a general consensus that the situation will have to change - much to the delight of military contractors.
"Nations that belong to NATO are supposed to spend 2 percent of their GDP on defense," Dick Cody, the senior vice president of major American defense contractor L-3 Communications, said at a shareholders meeting last December. "We haven't seen the budgets yet, but we know that uptick is coming, and so we postured ourselves for it."
Coalition opposition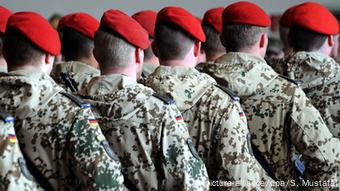 A slight majority of Germans favors increasing the size of the Bundeswehr
Among leaders of NATO member states, Merkel has been particularly assiduous about pushing for the agreed increase in military spending. The chancellor's remarks in Paderborn echoed multiple statements she made last summer.
But Germany's political opposition isn't happy about the prospect of a dramatic rise in defense expenditures. And Merkel's partners in her governing grand coalition, the Social Democrats (SPD), aren't exactly enthusiastic either, feeling themselves reminded of the Cold War.
"We've fallen back into a kind of logic I know from my youth, in which the only question being discussed is who has to spend more money to procure arms," SPD chairman Sigmar Gabriel said in June.
Other SPD leaders criticized what they called "NATO saber rattling."
But, with unease over the Kremlin's intentions increasing after Russia's annexation of Crimea, there is public support in Germany for beefing up the Bundeswehr. In a poll carried out in late December 2015, 56 percent of respondents favored increasing the size of Germany's military, compared with 30 percent who rejected the idea.
Merkel was able to push through a 1.2 billion-euro ($1.3 billion) increase in the Bundeswehr's budget between 2015 and 2016, so Germany is set to spend 35 billion euros ($38 billion) on defense this year. But a lot more money than that will have to be allocated if Berlin is to reach the NATO target any time soon.