In a joint letter addressed to UN Secretary General Ban Ki Moon, the two leaders said, "It would be unacceptable for the efforts of the most ambitious countries to be undermined by the carbon emissions released by lack of or insufficient action by other countries."
Sarkozy, whose government is to introduce a carbon levy on domestic fuel emissions in 2010, has repeatedly argued for a European Union carbon tax on imports from regions with poor environmental standards.
Germany had yet to come out in favor of a carbon tax on imports, which a German minister has warned could be perceived by developing nations as a form of "eco-imperialism."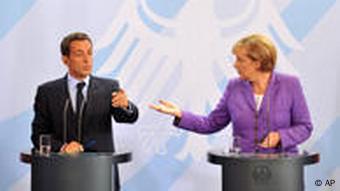 Merkel and Sarkozy will meet with world leaders at the UN on Tuesday before heading off to the G20 summit in Pittsburgh
In addition, the letter also stated that efforts for an international agreement to fight global warming have to start at next week's UN conference on climate change in New York.
In order to reach a "global and ambitious treaty" at December's climate summit in Copenhagen, the negotiators have to receive "a clear mandate." It was only in this way that global warming would be limited to two degrees Celsius over the pre-industrial level, the statement said.
US and India consider their own climate tax
France and Germany aren't the only nations considering a climate tax. Across the Atlantic the US House of Representatives has included a carbon tariff in its climate change bill to address concerns the nation's steel, cement and other big energy-consuming industries would be adversely affected by any deal to reduce carbon emissions.
However, many of the country's experts have warned that the proposal could backfire on the United States by causing other nations to pose their own tariffs on US goods.
Both China and India, the world's largest and fourth largest emitters of greenhouse gases respectively, have criticized the move, calling it an unfair attack on their trade, and have already proposed measures to counteract it.
India, for example, has suggested taxing imports based on the carbon emissions of the exporting country, which would have a large impact on the US, as its per capita emissions are higher than most countries.

mrm/dpa/Reuters/AFP
Editor: Andreas Illmer