On a turnout of 53.73 percent of the 1.4 million Mauritanians eligible to vote, 85 percent on Saturday voted 'yes' to abolition of the senate and changes to the country's flag, the national electoral commission said on Sunday.
Aziz - an ally of the West in the fight against Islamists in the Sahara - last week described the senate as "useless and too costly." He said abolishing the governing body would improve governance by introducing "more local" forms of lawmaking via elected regional councils.
Read more: Mauritanian flees slavery for life in Germany
Turnout was 36 percent in the capital, Nouakchott, but was higher in the west African nation's rural areas, reaching 80 percent in some places, according to the commission.
In other changes passed in the vote, the Mauritanian flag will now feature red bands added to the current green flag with yellow Islamic crescent and star.
The proposal to modify the constitution - which has been in force since 1991 - was rejected by the Senate in March, prompting Aziz to call the referendum.
Polling stations closed at 7 pm (1900 UTC) on Saturday after peaceful voting, after violent clashes in the final week of campaign.
Aziz said the changes would bring Mauritania "peace, security, stability and development" and said the boycott movement existed "only on paper and social media."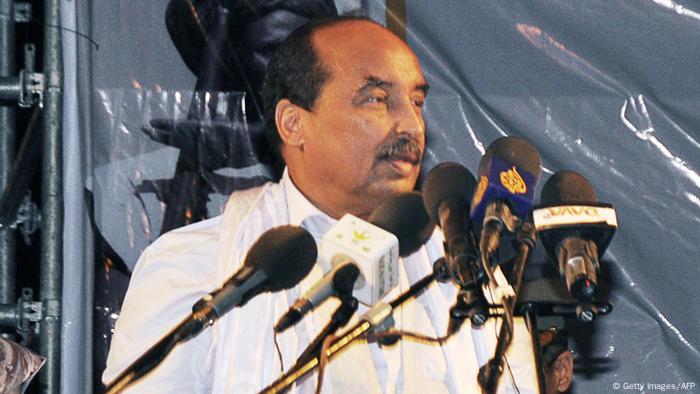 Mauritanian President Mohamed Ould Abdel Aziz at a rally ahead of the referendum, in Nouakchott
Opposition denounce vote
The opposition - coordinated by the Forum for Unity and Democracy (FNDU) - said it would not recognize the results of the referendum, denouncing it in a statement on Sunday as an "electoral farce which has given way to open-air fraud," adding that people "had clearly rejected the constitutional amendments."
It had previously claimed the government would rig the vote and called for a boycott and mass protests during campaigning, alongside religious conservatives and anti-slavery activists.
Many believe Aziz is angling to remove obstacles to his retention of power after his tenure expires. Aziz - who came to power in a coup in 2008 and was elected in 2009 and again in 2014 for a second five-year term - said on Saturday that "in two years, or even 10 years other amendments could arise to adapt our constitution to reality," without explaining.
What next?
Around 20 Senators, who have held a sit-in for three days in the upper chamber, suspended their protest on Sunday and said they would meet again on Monday to weigh up their next move, according to a statement.
The boycott movement had been prevented from demonstrating by the security forces, which on Thursday shut down planned rallies close to the capital with tear gas and beat protesters back with batons.
The UN Human Rights Office said Thursday that "protest leaders were reportedly beaten up and a number of them were arrested."
jbh/bw (AFP, Reuters)