Who would be interested in a thin book about two men having mid-life crises? That is precisely the story of Martin Walser's Runaway Horse, which became an instant bestseller in 1978.
The novella was intended as a mere exercise to get Walser's creative juices flowing again following the recent completion of a longer novel. "A summer flash in the pan" is how he described the 150-page book that took him less than two weeks to write. And then, out of all the works written during his long career, it was precisely this work that ended up being the most successful, with over one million copies sold over 40 years.
Two men, two worlds
"Klaus Buch said he was so happy to see that Helmut had not become a bourgeois. Helmut thought: If I'm anything at all, I'm a bourgeois. And if there's anything at all I'm proud of, it's that."
Two former school friends, both in their late forties, run into one another while on vacation. Helmut Halm, a teacher with two grown children, has long since come to terms with his rather boring and uneventful life alongside his wife, Sabine. The latter have spent every summer over the past 11 years on Lake Constance. Klaus Bach, a journalist, is married to a younger woman, Helene. He drives sports cars, is athletic — in other words, a picture of success.
Despite Helmut's aversion toward these perceived intruders, the two couples then meet up on multiple occasions. They feel drawn to one another in some way.
One day while hiking, a runaway horse suddenly charges the group. Klaus manages to capture the animal, and he explains grandiosely:
"You must never stand in the path of a runaway horse. It must have the feeling that its path remains unobstructed. Besides: You can't reason with a runaway horse."
It's a highly symbolic scene: Whereas Klaus once again demonstrates his manliness, Helmut identifies with the runaway horse.
Walser: Masterful observer
Klaus constantly boasts about his virility while Helmut feels like an old man in comparison.
With Runaway Horse, Martin Walser shows he is a masterful observer of two men who could not possibly be more different. One such example is when he describes the fears and doubts of the anti-hero Helmut:
"He was afraid he would not be able to defend his habits against this couple. They attacked him ceaselessly. Both of them."
Naturally, everything ends up turning out differently than expected. A near catastrophe brings the truth to light. Klaus, the powerful one, is consumed by fear. His marriage is everything but modern and harmonious. And Helmut? He departs with his wife for France. No new life, but finally something different.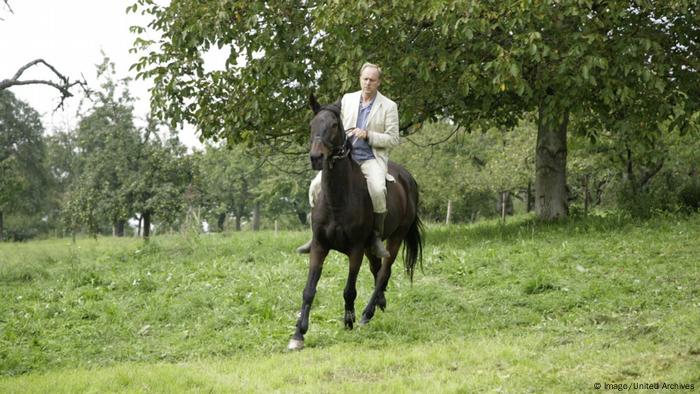 Actor Ulrich Tukur played Klaus in the 2007 film adaptation of 'Runaway Horse'
Most critics enthusiastically received Runaway Horse, describing the novella as Walser's most beautiful and mature book and a masterful, searing critique of society.
The scandal
Walser began his career as a reporter, director and author of radio dramas. In 1953 he became a member of the legendary writer's circle Group 47 (Gruppe 47) and worked with other writers and publicists to promote a new, democratic Germany. His name is often mentioned in the same breath as those of his literary contemporaries Günter Grass, Siegfried Lenz and Heinrich Böll. All of his books have been translated into multiple languages.
At the end of the 1950s, Walser spent several months in the United States, and repeatedly went back over the years upon invitation by American universities as a critical observer of the political conditions there.
Then, a scandal broke out. In 1998, when Walser won the Peace Prize of the German Book Trade, he talked in his acceptance speech about the "instrumentalization of the Holocaust" and the Nazi concentration camp Auschwitz as a "moral bludgeon." A heated debate ensued.
As if that weren't enough, his novel Death of a Critic appeared in 2002. The central character was clearly based on the Jewish literary critic Marcel Reich-Ranicki, with the book's critics accusing the figure of playing to numerous anti-Semitic cliches. Walser's standing sank to an all-time low as he became a persona non grata, especially in the US.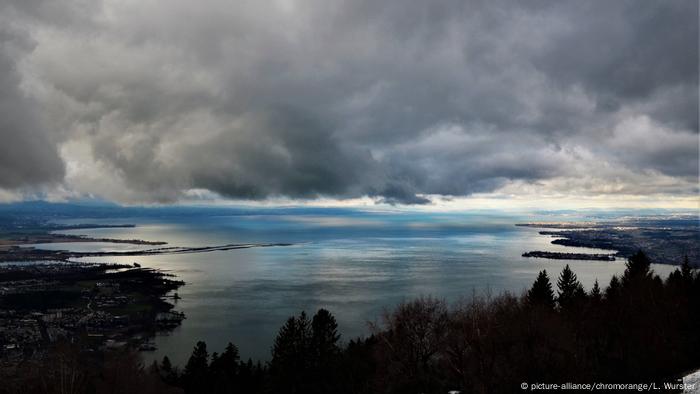 Walser lives on Lake Constance, where many of his novels are set
Walser never really fully recovered from his fall, but he has grown calmer in the meantime. Milder. And he still continues to write a new book every year. Many of his novels, diaries and stories continue to landing on the bestseller lists, but none have been as successful as Runaway Horse.
Martin Walser: Runaway Horse, Holt, Rinehart & Winston/Macmillan, (German title: Ein fliehendes Pferd, 1978). English translation: Leila Vennewitz.
Martin Walser, born in 1927, is one of the most important German-language authors of his generation. His books are studies on the mentality of the German Federal Republic, and his heroes are those who fail and those who doubt. Walser has published over 20 novels and dozens of novellas, stories, essays and diaries. His most important works are Marriages in Philippsburg (1957)and A Gushing Fountain (1998), which was published in English in 2015.