Just how unexpected was David Cameron's sweeping victory in the British elections? As one major broadcaster noted, not even Her Majesty the Queen had bothered to pencil in time for a potential victor on Friday because she didn't think there would be one.
But once the votes were finally tallied, Conservative voters rejoiced. The Tories had won an outright majority in parliament.
Currency markets were the first to react. As exit polls on Thursday suggested voters had favored the business-friendly Conservatives, the British pound began to rise to a two-month high against the dollar.
Equity markets followed, with London's FTSE outperforming other European stock markets and jumping nearly 2 percent on Friday.
A known quantity
There had been warnings that a period of post-election uncertainty could hamper business activity, but those in Britain's banking and energy sectors breathed a sigh of relief as their fears of a Labour government raising taxes on bankers' bonuses or further regulating utilities evanesced.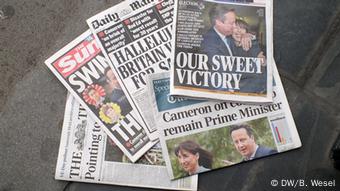 The final tally was 331 seats for the Tories, 232 for Labour
Utility stocks enjoyed their biggest one-day gains in six years - 4.4 percent - as the prospect of less regulation in the sector sank in. Shares in British banks Lloyds, RBS and Barclays were all up 4.5 to 6.4 percent.
"The bottom line is that when it comes to markets - financial markets and the like - the Conservatives are a known quantity, whereas Labour are not," said Alastair McCaig, a market analyst at IG trading group.
Many election observers viewed the outcome as a vindication of Cameron's economy-focused campaign and his five-year stewardship of Britain's $2.8 trillion economy. Cameron has promised to eliminate Britain's budget deficit by 2018 and bring about a surplus the year after.
The prime minister had also committed to a "five-year tax lock," in which he pledged to not raise income or value-added tax and even said he would slash taxes for the wealthy.
EU referendum
While many traders enjoyed what was referred to as a "relief rally," some analysts offered a more nuanced view of the Conservatives' win.
"One lingering concern is that an EU referendum is now likely to occur in 2017 but perhaps sooner," said Samuel Tombs, a senior economist for the UK at Capital Economics in London.
There could also be a renewed push for Scottish independence after the Scottish National Party took all but one seat in the country. Such a move could rattle markets as major Edinburgh-based banks might consider moving their operations to London.
Cameron did eventually head to Buckingham Palace on Friday afternoon to meet Queen Elizabeth II and tell her that he had enough support to form a government, a formality in British politics.
He could also be seen standing next to his vanquished opponents, Labour party leader Ed Miliband and the head of the Liberal Democrats, the Conservatives' former junior coalition partner, Nick Clegg, at a ceremony in central London marking the 70th anniversary of the Allies' victory over Nazi Germany.