First he threw a few books at his servant, then a chair without registering a trace of sympathy: "After that I had peace and quiet all day." And when a prince once thought two bassoons would do instead of three, he replied: "If Your Highness allocates instruments like that, then I don't give a damn!"
Employees, the nobility, his publishers -- they all got it dished to them. One of his biographers called Ludwig van Beethoven the "bawdy genius."
Brain proprietor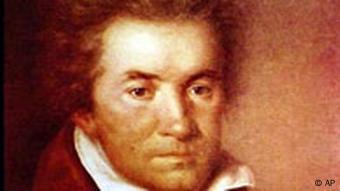 "There is only one Beethoven"
Most of what we know about Beethoven comes from his correspondence and his diary. Much unlike his contemporary Goethe, who he did not get along very well with, Beethoven was a stranger to self-stylization.
In his letters he writes about the malevolence of people and about the class restrictions which refused him contact with the women he worshipped.
He did not conduct himself as an outstanding nobleman; he even treated friends to coarse language. When his brother once acquired some land and signed himself as "van Beethoven, land proprietor," Ludwig replied with "van Beethoven, brain proprietor."
To Prince Lichnowsky, one of his appreciators and patrons, he wrote: "Prince, what you are, you are through chance and birth; what I am, I am through my own labor. There are many princes and there will continue to be thousands more, but there is only one Beethoven."
Beethoven for all
Beethoven's letters and diary are like a quarry from which one can extract whatever one needs. There are sentences of his that give the impression that he had a revolutionary disposition, others that suggest he was elitist.
This ambiguity, together with his new musical aesthetic, later led to occasionally absurd attempts at exploiting his music: The 9th symphony sounded in 1937 for Hitler's birthday. And even the news of Hitler's death was read out on the radio over the 9th symphony.
But even earlier, in the time of the Weimar Republic before the Second World War, Beethoven was politically exploited. The right emphasized his supposed hostility towards the French and saw in him a "titanic fighting spirit." The left equated the revolutionary quality of his music with revolutionary politics.
That is something which later recurred in East Germany: After the Second World War Beethoven was used by the GDR propagandists -- Beethoven as a fighter for world peace.
A moody artist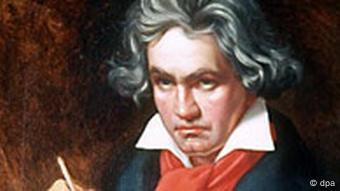 Beethoven didn't quite fit in
To apply concrete political goals to Beethoven himself is, however, totally excessive. What he said was far too inconsistent. For Beethoven it was about finding new paths in music -- new paths which he carved out dazzlingly.
Beethoven was known for being business minded. Nevertheless he lived in a rundown house near Vienna and hardly cared about his appearance. To his contemporaries Beethoven must have seemed completely unconventional.
Beethoven remained a bachelor, he lived for music -- in the morning he composed, in the afternoon he went for a walk, at lunchtime he ate heartily. In many people's eyes he defined the image of a brilliant but difficult artist -- reinforced by the many hundreds of paintings and busts of a Beethoven with wildly unkempt hair and a serious piercing glare.
Beethoven's deafness
One often forgets the aspect that caused the most tragedy in his life: his deafness.
Beethoven is just over 30 years old when it becomes clear that he can no longer conceal his worsening hearing. A deaf musician?
"My ears, they whirl and roar night and day," he wrote. Beethoven considered suicide, withdrew himself from society. He even wrote a farewell letter which he never sent.
In the letter is one of Beethoven's most famous sentences about himself: "Oh you people who think me hostile, stubborn and misanthropic, how you wrong me."