A statue of Swedish soccer talisman Zlatan Ibrahimovic was targeted by vandals, who sawed off its legs, police in the city of Malmo said on Sunday.
The act of vandalism is the latest of several attacks on the statue of Ibrahimovic, who had been lauded as a legend at the football club Malmo FF. Police said they had launched an investigation but did not have any suspects yet.
The 3-meter (10-foot) statue was cemented into place in October and is adjacent to the stadium of the club, where the striker started his career. The unveiling was witnessed by around 1,000 fans who chanted "Zlatan!" during the ceremony.
Anger over investment
For some fans, however, the mood has soured since November, when the player announced that he would buy a stake in Stockholm-based premiership club Hammarby.
Ibrahimovic filed a "hate crime" complaint after the statue was attacked with fire and paint, and the word "Judas" was daubed across the front door of his Stockholm home.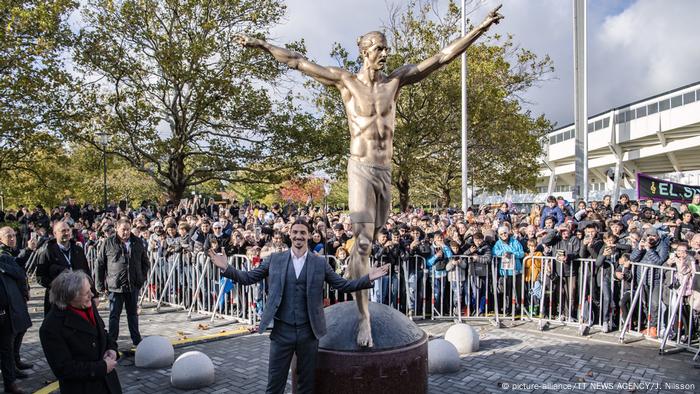 The mood appears to have changed since October, when the statue was unveiled in front of fans
In December, vandals sawed off part of the figure's nose and covered the golden statue in silver paint.
Malmo's deputy mayor, Frida Trollmyr, told the AFP news agency that she partly understood the reasons but condemned the act.
"I can understand that many people are disappointed in Zlatan's behavior, but vandalizing a statue is simply unworthy. Better to express your dissatisfaction in a democratic way," Trollmyr said.
At the time of the unveiling, Ibrahimovic said having such a statue in one's hometown was "the biggest thing that can happen to a person."
The 38-year-old recently signed a six-month contract with Italy's AC Milan, having spent two seasons in the US with the club Los Angeles Galaxy.
Before moving to the US, the larger-than-life Ibrahimovic played for — and earned trophies with — an array of Europe's top teams, such as Amsterdam's Ajax, AC Milan, Barcelona, Paris Saint-Germain and Manchester United.

rc/stb (AFP, dpa)
Each evening at 1830 UTC, DW's editors send out a selection of the day's hard news and quality feature journalism. You can sign up to receive it directly here.