Health Minister Subramaniam Sathasivam said Sunday that new cases were bound to emerge now that Zika had entered communities.
The warning came a day after authorities confirmed the death of a 61-year-old Zika patient in the eastern state of Sabah in Borneo. Health officials said the man was the first patient to contract the virus locally, but that heart complications, rather than Zika, had caused his death.
Subramaniam said authorities were working to trace the man's movements to determine other possible sources of infection.
"This patient has not been to any other country where a large number of cases had been reported," the minister said on his Facebook page. "This means that this person contracted the disease locally.
"It suggests that there are other infected people in the community who are potential sources of infection," Subramaniam added.
The 61-year-old was only the country's second confirmed Zika case. The first reported patient, a 58-year-old woman, was infected after traveling to neighboring Singapore last week.
Malaysian outbreak in the cards
The Zika virus, mainly transmitted by the bite of the Aedes mosquito, spread rapidly through a number of Latin American countries in 2015, prompting the World Health Organization to declare a public health emergency. Cases have since emerged in the US, Africa, Asia and the Pacific, but Brazil remains the hardest hit.
Although Zika causes no symptoms in most people, it is considered particularly dangerous for pregnant women. The virus has been shown to cause microcephaly - a birth defect associated with abnormally small brains and heads in new born babies - as well as neurological disorders in some adults.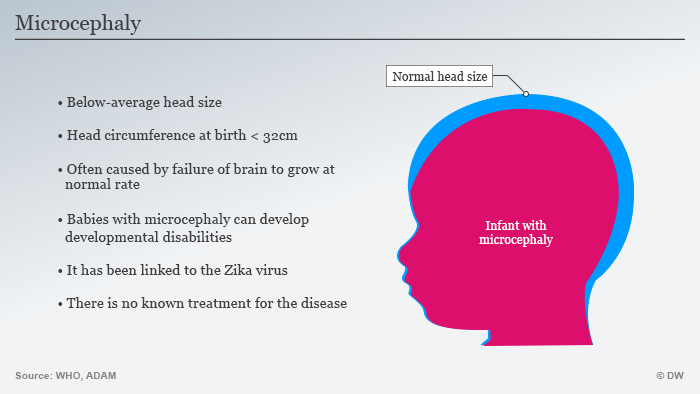 Health authorities in Malaysia raised concerns about Zika after Singapore reported last week that it had more than 200 cases of the virus.
Fight against dengue
Malaysia's health system has already been stretched thin by dengue fever, which is also spread by the Aedes mosquito and can be fatal. Since the beginning of last year, the virus has infected almost 200,000 people and killed more than 500 in the Southeast Asian country.
Amar Singh, head of the pediatric department at Malaysia's Hospital Raja Permaisuri Bainun, warned that this was one reason why Malaysia faced a much tougher struggle against Zika than its smaller neighbor.
"Zika will spread even faster in Malaysia than Singapore because our Aedes volume is so much higher and the breeding grounds are enormous," he said.
Malaysia, home to almost 30 million people, has boosted its efforts to screen travelers from abroad and increased insecticide spraying to kill mosquitoes. Health Minister Subramaniam on Sunday also urged Malaysians to clean up areas that could serve as breeding grounds for mosquitoes.
nm/sms (Reuters, AFP, dpa)