Eighteen-year-old Precious - not his real name but a pseudonym chosen to protect his identity - has never faced a reporter before, but he is anxious to tell his story nonetheless.
Dressed in a red checked shirt and a pair of camouflage shorts, sporting his signature Mohawk hairdo, he is seated in the office of the minority rights group Centre for Development for People (CEDEP) in Lilongwe.
"I realized I was gay at the age of 14 while in secondary school," he told DW.
In conservative Malawian society, this multiplies the traumas of adolescence and young adulthood.
"My family knows I am different, but no one has ever approached me to find out about my sexual orientation, though I suspect some members of my community know I am gay as I have received some death threats because people think I am evil."
Religious objections
He has also faced discrimination when trying to obtain health care.
"I had a sexual health issue that required medical attention. I was disappointed with the way the nurse at the health facility handled the situation. After the routine diagnosis, she asked me if I was homosexual. I said 'yes' because I wanted help. She told me that I was evil and my future was doomed because God does not allow that," he said.
But the nurse's harassment did not end there.
"She then called her colleagues to come and see me. They took turns pouring insults on me. One of them openly said I did not deserve medical attention. Instead, I should be arrested for indulging in homosexuality, which is an offence. I was totally upset and I left the clinic for a drug store so I could treat myself," he added.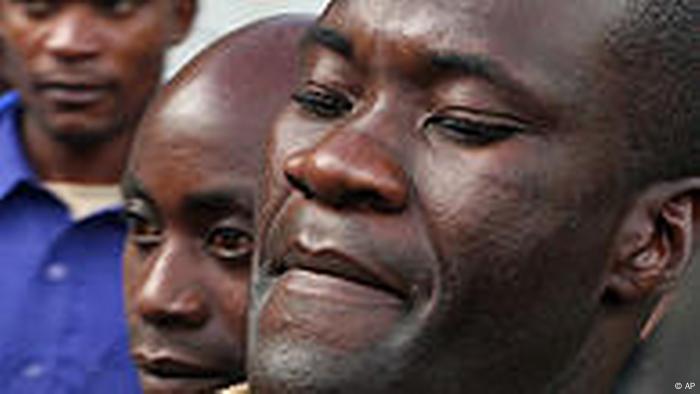 Tiwonge Chimbalanga and Steven Monjeza were sentenced to 14 years in prison under Malawi's anti-gay legislation in May 2010, prompting an international outcry
Precious's case is not an isolated one. Many lesbian, gay, bisexual and transgender (LGBT) Malawians have had similar experiences when seeking health care at public and private facilities in the country.
Minority rights group CEDEP is campaigning for an end to this discrimination and hostility. Maria Ngulube runs Linkages, a project in which CEDEP and other organizations are endeavoring to ensure that everyone, including the LGBT community, has equal access to health care.
"We have had cases of the community complaining of maltreatment at the health centers and clinics, so the project decided to engage the health workers themselves," said Ngulube.
Church-owned facilities
CEDEP and its partners have trained more than 50 health workers in Malawi since the program started in April 2016. The program, which Ngulube plans to expand, offers guidance in how to address the specific health needs of sexual minorities.
Ngulube says the religious beliefs and affiliations of health workers and the institutions where they work often contribute to anti-LGBT discrimination. Apart from turning to the public hospitals, which are few in number, much of Malawi's LGBT population accesses health care at church-owned facilities operated by the Christian Health Association of Malawi.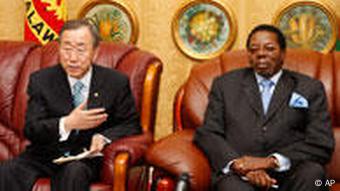 Chimbalanga and Monjeza were given a presidential pardon by Malawian President Bingu wa Mutharika (right) following a meeting with UN Secretary-General Ban Ki-moon (left)
Fatsani Kalino is a health worker at Bwaila Referral Hospital, a public facility in Lilongwe, where she works in HIV Testing and Counseling within the Sexual Transmitted Infections (STI) Department. She described the pervasive stigma that surrounded the treatment of sexual and gender minorities before CEDEP began its training program.
"Sometimes we were regarded as LGBT health workers. If colleagues learned that we treated an LGBT member, they said it means we are promoting sin," Kalino said.
Health workers were shunning members of the LGBT community for that very reason.
However, Kalino said the CEDEP programs have since softened some of the stigma of treating LGBT patients.
One CEDEP-trained nurse, who requested anonymity, explained how the religious concept of sin was preventing Malawi's LGBT community from receiving proper medical treatment.
"If their sexuality is known, they end up being excommunicated from church, and in that case anyone associating with them is considered a sinner. That is why many health workers find themselves in a dilemma between doing their job as a professional and being a spiritual being," the nurse said.
On average, she said she treats between 40 and 80 members of sexual minorities each month.
"The CEDEP training has helped us to treat clients without stigma and accept them as anyone else, but I wish the society accepted them so that they may be using the social services freely," she added.
Improvements noted
Chisomo, a gay man whose name has also been changed to protect his identity, says access to health care among LGBT people in Malawi has improved somewhat since CEDEP began training health workers in early 2016. "We are now being directed to those that have been trained on how to deal with marginalized groups," Chisomo said.
His boyfriend James says there are still cases in which LGBT people go to the hospital for medical assistance and are then humiliated and ridiculed for their sexual orientation.
"I wish for the day Malawians will accept us as we are. Being gay or lesbian in this country, you risk being excommunicated from church, fired from work, banished from home and even getting arrested," James said.
"I would like to urge the organizations fighting for our welfare to offer training to more health workers for a fairer health care treatment to everyone."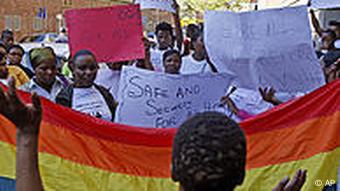 The Malawian government said in November 2016 it would hold public consultations on whether to reform colonial-era laws banning homosexuality
Eighteen-year-old Mercy, whose name has also been changed to protect her identity, told DW that being lesbian in predominantly Christian Malawi was a nightmare.
"I realized I was attracted to women when I was in secondary school. I have never had any feelings for the opposite sex. No one can change that. So I plead with churches and everyone concerned to let us be and to accept us. Give us health care like anyone else regardless of cultural beliefs and religion," she said.
Religious fervor would appear to stand in the way of such change. In December 2016 the Episcopal Conference of Malawi held a protest march asking the government to enforce laws that criminalize same-sex relationships and homosexuality, arguing that they threaten traditional family values.
Under Malawian law, consensual sex between men is punishable with 14 years' imprisonment. In 2010 two men received the maximum sentence for allegedly holding a public engagement ceremony in the commercial city of Blantyre. The sentencing attracted international condemnation, with some western donors withdrawing support to Malawi. The couple was pardoned after serving five months of their sentence after then-UN Secretary-General Ban Ki-moon met with Malawi's then-president, the late Bingu wa Mutharika.
Malawi's government has since suspended prosecutions under its anti-sodomy laws. Despite the moratorium, inequality in access to health services among LGBT people remains high.
More dialogue
Malawian journalist Suzgo Chitete produced a documentary focusing on the plight of sexual minority groups in Malawi in early 2016. Chitete thinks that no matter how much the government is willing to protect sexual minorities, the churches will still be able to stimulate homophobia and discrimination.
"The moratorium on sodomy laws is a step forward. But again, in a society where the moral compass is dictated by religion, the political leadership cannot easily stand against such a dominant view for fear of losing public support," he said.
Chitete said more dialogue on the issue is needed. Concerned stakeholders should engage religious institutions to be tolerant to diversity. The church must not preach love, peace and harmony and yet perpetrate discrimination," he said.
According to a recent report of the International Lesbian, Gay, Bisexual, Trans and Intersex Association (ILGA), homosexuality remains illegal in 73 countries worldwide. Of these, 33 are in Africa, four of which prescribe the death penalty for people who engage in same-sex sexual acts.
Even in African countries where same-sex sexual relations are not officially illegal, LGBT people often face marginalization, discrimination, violence and death solely because of their sexual orientation.