The World Health Organization (WHO) is shining a spotlight on the prevention of malaria, a disease that kills more than 400,000 people every year. World Malaria Day is on April 25 and will be marked with the theme "End Malaria for Good." The WHO's malaria eradication strategy calls for a 40 percent reduction in malaria cases by the year 2020.
For many Burundians, this year's theme doesn't seem realistic given the fact that their country has no proper measures in place to stop the disease. On Monday (13.03.2017), the East African nation declared a malaria epidemic after nearly 800 people have died since January.
The Burundian Health Minister Dr Josiane Nijimbere said that more than 3,700 people have died from malaria since 2016.
"There's an increase of 13 percent of the cases related to malaria," Nijimbere said, adding that the death toll is "worrying" as pregnant women and children under age of 5 are the most vulnerable. Out of the total population of 11 million, more than eight million cases of affected people were recorded in 2016, according to government figures.
Truth or diversion?
The Burundi government declared malaria epidemic the same day the UN alleged that the country has been committing serious human rights abuses against its own people.
The UN Security Council said on Monday (13.03.2017) that it was disturbed by reports of torture and forced disappearances in Burundi. The council noted that the security situation there "has remained generally calm," but said it was concerned by the increasing numbers of refugees leaving the country.
Hundreds have died and 390,000 people have fled since the country descended into violence in April 2015 after President Pierre Nkurunziza announced plans to run for a third term, which he went on to win.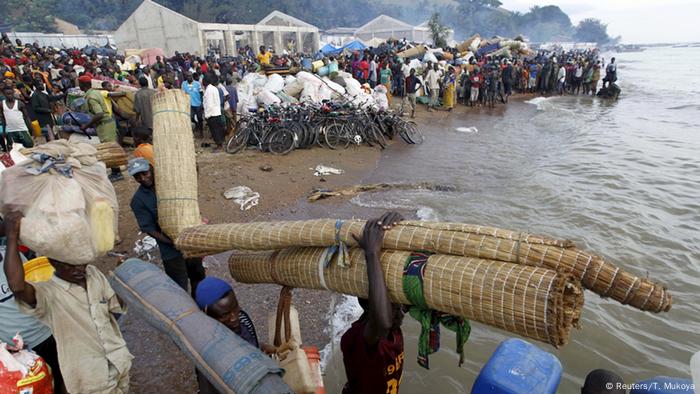 Hundreds of Burundians have fled into neighboring countries since 2015
Burundi has not yet to responded to the UN's fresh allegations but it has appealed to the international community for support to fight Malaria. The government said regions in the country's north and northeast are the most affected and that $31 million (29 million euros) is needed to fight the epidemic.
Malaria on the rise in Rwanda
According to a 2016 WHO report, malaria remains an acute threat to public health, particularly in sub-Saharan Africa, home to 90 percent of the world's malaria cases. Rwanda, Burundi's neighbor, said that 3.9 million people were infected by the mosquito-borne disease in just the last four years. The Ministry of Health reported that malaria cases increased from slightly a half million in 2014 to over a million in 2015. At least five hundred people reportedly died in 2015.
"In November [2016] we registered nearly 700,000 cases countrywide. We also noticed the resistance to insecticide," Aimable Mbiturumuremyi, an official at Rwanda's Health Ministry told DW. He added that the government has equipped community health workers with the skills to diagnose and treat malaria at a community level. Malaria is the fourth most deadly disease in Rwanda after neonatal, lung and cardiovascular diseases.
Home grown solutions
World's first malaria vaccine is set for 2018 roll cut in Africa. But that is not guaranteed until after the WHO secures enough funding. The organization needs at least $37 million from partners.
Malaria kills about 400,000 people every year on the African continent. As many governments fail to tackle the disease, some young Africans have set themselves an ambitious goal. Gerard Niyondiko, a Burundian chemist, wants to save 100,000 lives by 2020. Niyondiko said that many approaches are too expensive and impractical. He wants to do it differently - with a simple but effective miracle weapon: soap.
"We decided to work with soap because it is a product that can be easily integrated into the everyday life of the people at risk," he noted, adding that a soap is used in 95 percent of all African households, including the poorest.
The soap he's talking about is called "Faso Soap." It is not only used for washing but its smell also repels mosquitoes. The protective function is based on a combination of essential oils which are obtained from local plants. At night, nets keep the mosquitoes at a distance but during the day and in the early evening, when the mosquitoes are particularly aggressive, there's little protection.
Nasra Bishumba in Kigali contributed to this report.