The Turkish military said Saturday that warplanes taking off from their southeastern base in Diyarbakir had bombarded PKK camps in northern Iraq on Friday, destroying shelters and weapon posts.
But the battles also raged closer to home with the sound of gunfire within earshot of the Diyarbakir-based fighter wing in the predominately Kurdish city.
One Turkish soldier was killed and another was lightly wounded on Saturday in clashes in the historic central Sur district which has remained under a police curfew for the past two weeks and is the scene of fighting between soldiers and militants.
A second Turkish soldier also died of wounds he received in the flashpoint city of Cizre along the border with Syria and Iraq.
Rights groups say the civilians who have not fled are being killed in indiscriminate raids.
"The people in these houses are civilians, not terrorists," Abdusselam Inceoren of the Diyarbakir-branch of the Human Rights Association (IHD) told the DPA news agency. "They are deploying rockets and tanks. They pay no heed to women, children and the elderly."
A two-year ceasefire between Turkey and the PKK collapsed in July, shattering peace talks and reviving a conflict that has afflicted the mainly Kurdish southeast for three decades, killing more than 40,000 people.
Although traditionally rooted in the mountains and countryside, the PKK has shifted to towns and cities in the southeast, setting up barricades and digging trenches to keep security forces out.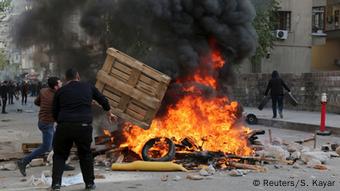 Demonstrators set tires alight in clashes with riot police during a protest against the curfew in Sur district
Urban clashes more frequest between police, militant youth
Turkish President RecepTayyip Erdogan said this week that Kurdish militants would be "annihilated" in their trenches and that the operations would continue until the area was "cleansed" of fighters and their barricades destroyed.
Rights groups are alarmed at the relative silence from Turkey's allies. The US and EU both list the PKK as a terror group but in the past have called for restraint against the civilian population.
"These attacks are aimed at the Kurdish people," Inceoren said.
EU criticism of Turkey has been muted since key leaders, including German Chancellor Angela Merkel, enlisted her counterparts in Ankara to help stem the outflow of Syrian and Iraqi refugees that have been pouring into Europe since summer.
Meanwhile, distrust remains high in cities and towns across Turkey. Graffiti on the walls in Diyarbakir, apparently left by departing special forces reads: "If you are a Turk, be proud. If not, obey."
jar/jlw (Reuters, dpa)