You've seen it dozens of times on the pitch.
A zealous defender desperately slide tackles the ball, and the opposing striker ends up on the ground, writhing in pain and cradling an injured leg.
No worries. Ice spray to the rescue. Known by many players as "Magic Spray," the first aid aerosol is becoming increasingly popular - not only among professional athletes but also among "Weekend Warriors." And that's a problem, medical experts say.
"It's fine if an experienced sport therapist uses this, but it shouldn't be used by lay people," says Dr. Andreas Imhoff, a professor of orthopedic sports medicine at the Technical University in Munich. He also runs a sports medicine clinic.
Dr. Margit Rudolf, an orthopedist and sports medicine specialist at the Otto von Guericke University in Magdeburg, agrees. "There's a big risk when amateur athletes use these [products]."
Especially troublesome, Rudolf adds, is when the aerosol is used on children. Rudolf said parents tend to be more careful when using the sprays on younger children, but she's seen cases of misuse when it comes to teenagers.
Her recommendation: Avoid it.
"These sprays shouldn't be used by parents," she said.
Could be poisonous
The ingredients in these sprays can be problematic. While there are some relatively "natural" sprays on the market, which contain ingredients like camphor and menthol, many others contain chloroethane, once widely used as a gasoline additive and which can be poisonous when used improperly.
"You have to hold it at least 30 centimeters away [about a foot] and not spray it on any open wounds," Imhoff said.
Rudolf also warned against misusing the sprays.
"Unfortunately I've a seen it being used on open wounds," she said. This can cause skin burns and lead to other irritations.
The chloroethane-containing sprays, she adds, "can be very aggressive, and should only be used in the hands of professionals."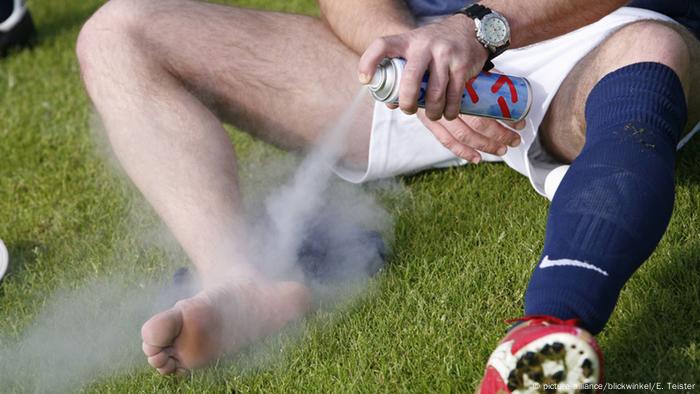 Bad idea: Injuries are a sign that your body needs to rest and recover
Pain isn't a bad thing
The sprays are mainly used to combat pain resulting from a sports-related collision injury. The "freezing" of the wound allows players to get back in the game. And this is a big problem, medical experts agree.
"You can obtain the cooling effect with an ice bag, but the sprays are colder and therefore more dangerous," Imhoff said. "You want to heal the wound."
Not only does the extra cooling help injured players return more quickly to the game, but the more convenient logistics of spraying versus holding an ice pack against your leg means players avoid sitting out the remaining time.
That can lead to additional injuries, as athletes become unaware of what is going on underneath their frozen skin.
Overuse
Several drugstores in Germany carry cooling gels, but the sprays are most easily found in pharmacies or the Internet, where prices range from around two euros ($2.25) to 5 euros per 100 ml.
From a business perspective, ice spray sales are nominal, and the market is "is not very dynamic," according to Christian Wieser, product manager for Deutsche Olbas. His firm mainly sells to sports clubs and is also the official supplier for Germany's national football team.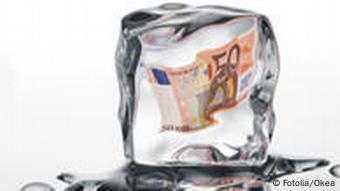 Save some money, save your skin
The figures he provided, which were compiled by marketing analysis firm IH-Galaxy, showed annual fluctuations in sales from 2012 to 2014, depending on the brand.
But physicians believe the sprays are being used more often. Their availability, convenience and their inadvertent promotion when athletes use them during televised sporting events has led to their being overused, physicians say.
"A bag of ice water is better," Rudolf says.