Respected lawyer Dragoslav Ognjanovic was gunned down over the weekend in front of his apartment in what the Belgrade press called an "ambush." His 26-year-old son was also wounded in the attack. Ognjanovic helped defend former Serbian President Slobodan Milosevic, during the early 2000s when he stood trial accused of having committed war crimes. The lawyer is now the 19th victim of gang-related crime in Serbia this year. So far, no arrests have been made in the case.
In previous years, Ognjanovic counted some of Serbia's most notorious mafia figures among his clients. His murder sparked a weeklong protest by fellow attorneys across the entire country. Bozo Prelevic, a well-known lawyer who worked for the country's interior ministry, is shocked. "What lawyer would now dare defend clients connected to mafia gangs that murder people?" He says the attack on Ognjanovic sends a strong warning to all lawyers.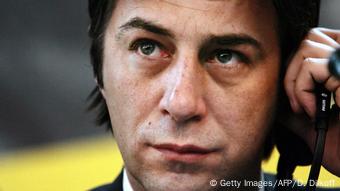 Ognjanovic defended notorious Serbian leader Slobodan Milosevic
Trail leads to Montenegro
Those who know the Belgrade criminal world claim that Ognjanovic's murder is part of a larger feud between two rival drug gangs. Until recently, Ognjanovic provided legal counsel to Luka Bojovic, one of Serbia's most prominent mafia bosses. Although currently behind bars in a Spanish jail, Bojovic is allegedly still conducting shadowy business in the Balkans despite the deaths of his brother and other close associates in recent years.
The two rival clans dominating Serbia's illicit drug trade originally hail from the towns of Skaljari and Kavac in neighboring Montenegro — but their feuds often play out on the streets of Belgrade, which has long since become a mafia hotbed.
Many observers suspect that the political class, the police, and even the judiciary, are tied up with these mafia killings. Indeed, of the 124 murder cases registered by Serbia's non-profit Crime and Corruption Reporting Network (KRIK) since 2012, only nine have been solved. In 87 cases, not a single suspected was named. "One of the parties involved in this mafia war is being openly backed by the state," KRIK's chief investigator Stevan Dojcinovic wrote on Twitter.
President Aleksandar Vucic has been ruling Serbia with an iron fist for six years now. The country's main media outlets are kept on a short leash. And the political opposition is practically non-existent. The Serbian judiciary lacks independence, and the EU has repeatedly chided the country for failing to uphold press freedom.
During a recent World Cup match in Russia, President Vucic's 20-year-old son Danilo was spotted in the stands, cheering his national team — along with several well-known Serbian criminals. All wore identical t-shirts with a provocative nationalistic slogan. So when the president claimed his son had only coincidentally found himself in the company of these figures, few believed him. His denial was all the more unconvincing given that those same individuals worked as security staff last May at the president's swearing-in event, which was geared towards the media, and at which several protesters and journalists were beaten.
Read more: Democratic principles on the edge in Balkans, Eastern Europe
Out of control
Until October 2016, the criminals connected to president Vucic were lead by notorious Aleksandar Stankovic, who in turn had close ties to the Kavac mobsters. Then, one day, Stankovic was murdered in an ambush. He had been previously sentenced to six years in jail for selling drugs and attempted murder, but managed to repeatedly avoid jail time by asking doctors to issue medical reports. Instead, Stankovic spent his time attending the football matches of the local team Partizan Belgrad. Ordinary people without connections to powerful policymakers would not get such special treatment.
"Serbia is inundated with drugs, and you clearly see that a certain group of criminals is tied up with the ruling party," explains lawyer Prelevic. The all-powerful Serbian Progressive Party (SNS) to which the president belongs is also accused of nepotism due to handing out lucrative jobs and public tenders to those close to Vucic. Prelevic believes "this nexus of crime, money and politics is destroying our country and its legal system."
But even Vucic's fiercest critics would never go so far as to accuse the president of actually condoning the mafia murders. After all, the president likes presenting himself as someone trying to eradicate crime. Yet it may already be too late for that: Belgrade judge Miodrag Majic tweeted that lawlessness is like cancer; left undetected for too long, it becomes impossible to control.