Demonstrators engaged in pitched street battles with police during mass demonstrations in the Venezuelan capital Caracas on Thursday. The result: one dead and several injured. Protests against the government of President Nicolas Maduro are escalating.
"You are letting us starve to death!" chanted protesters. Many uploaded videos via Twitter to document the scale of the confrontation. "We are sick of dictatorship, we aren't scared," said one young student.
Maduro's administration took to the airwaves of broadcaster "teleSur TV" to announce that it had "neutralized the right-wing's plan to spread extreme violence."
The editorial board of the Spanish daily newspaper "El Pais," however, sees only one way to end the political and economic crisis in Venezuela, demanding: "All political prisoners must be released immediately, and new elections must be held under the supervision of the Organization of American States (OAS)."
Loyal military?
But are those demands realistic? How long can Maduro hang on? Is the late former President Hugo Chavez's "21st Century Socialism" really finished?
In light of the stress test in Caracas, many are looking behind the scenes for answers, namely at the Venezuelan military. Experts say that not only is Venezuela's society divided, its armed forces are, too.
"The armed forces are not a unified block, they never were," says political scientist Daniel Leon, a researcher of political economy and violence at Leipzig University. But Leon says one should "not expect too much from them" in this current crisis. "They are part of the political establishment," adds.
Revolutionaries in uniform
Leon also recalls that when ex-President Chavez led a military coup on February 4, 1992, it was a rather small group that supported him, not the entire armed forces. The "Ejercito Revolucionario Boliviano" (Revolutionary Bolivarian Movement-200 or MBR-200) that Chavez founded in the 1980s was an anti-government group within the army.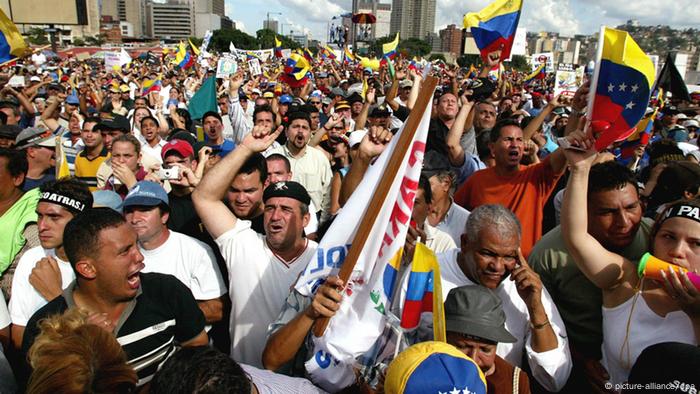 Chavez opponents in Venezuela made their voices heard during the attempted coup in 2002
Experts say that the army is still split into various factions today. Among them: government critics; Maduro supporters; followers of Chavez, who opposed his successor Maduro; and finally supporters of former Speaker of the National Assembly of Venezuela, Diosdado Cabello, a political rival of Maduro.
Constitution raises questions
The Venezuelan constitution does not specify how exactly the military is to act in the event of an executive coup directed at the country's legislative branch. Article 350 simply states: "The people of Venezuela, true to their republican tradition and their struggle for independence, peace and freedom, shall disown any regime, legislation or authority that violates democratic values, principles and guarantees or encroaches upon human rights."
Experts say that the passage in no way justifies a military coup. "There is no need for the military to fire cannons, nor to grasp the reins of power and govern the country," says Venezuelan political scientist Ivo Hernandez of the University of Münster. "It would be enough if they would simply take a clear stance on the current situation."
Yet Hernandez is uncertain about what will take place in military barracks as the situation deteriorates: "If the situation worsens quickly, the Maduro government and the "Chavista" elites will lose control, even though they have all public authority in their hands."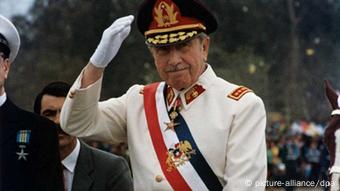 Former Chilean dictator Augusto Pinochet took power in a CIA-backed coup in 1973
Shades of the Pinochet coup
Chilean Latin America expert Fernando Mires, who until recently taught at the University of Oldenburg, even sees parallels to the 1973 military coup in Chile. "Military leaders are primarily concerned with maintaining their own institutions," he says. "During the coup in Chile, it was not top-level military leaders that wanted the coup. They did not support the movement until it became clear that the military was in danger of breaking apart."
According to Mires, there is more at stake for Venezuela's military than there was for Chile's at the time. "During the Pinochet dictatorship, 40 percent of all public posts were filled by the military. In Maduro's Venezuela that number is 60 percent," he explains.
Not even Chavez, himself a lieutenant colonel, achieved that level of militarization. Mires' conclusion: "The hope that Venezuela's armed forces will rise up to defend the rule of law is a figment of the febrile minds of a number of anti-Chavistas."