A Luxembourg court on Wednesday handed down reduced sentences to ex-PricewaterhouseCoopers employees Antoine Deltour and Raphael Halet. The former received a six-month suspended sentence and a 1,500 euro fine, reduced from a 12-month sentence, and the latter was ordered to pay a fine of 1,000 euros in place of a 9-month jail term.
In June last year both were sentenced for the leak of documents that revealed the huge tax breaks the tiny EU nation offered to companies including Apple, IKEA and Pepsi.
The investigative reporter Edouard Perrin - who used the thousands of pages of documents to produce two reports for French public television in 2012 and 2013 - was acquitted of all charges last June, but his name was also added to the appeal after prosecutors argued his case was closely linked to the others.
During a hearing at Luxembourg's Court of Appeal in December prosecutors recommended that Deltour - seen as the principal actor in the leak - get six months and that Halet receive only a fine and argued that Perrin should be acquitted once again.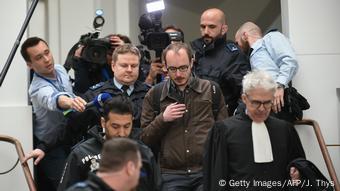 Former employee at PwC Antoine Deltour (C) and his lawyer William Bourdon (R) leave the courthouse in Luxembourg on April 26, 2016.
The LuxLeaks scandal erupted in 2014 when the International Consortium of Investigative Journalists published over 500 tax rulings on its website linking Luxembourg to about 350 international firms.
This prompted the EU to take steps to stop global firms avoiding tax in Europe, including anti-trust inquiries into firms such as Apple, McDonald's and Amazon.
The scandal also pressured Luxembourg into accepting a new law that requires EU member states to share tax deal information with its bloc partners.
jbh/rc (AFP, AP)