In a message posted on PEGIDA's official Facebook page, the group confirmed that Bachmann had, in a secret ballot, been reinstated as one of three directors of the organization until further notice. According to German newspaper Bild, the 42-year-old was also chosen as chairman.
In the same post, the organization whose name loosely translates to "Patriotic Europeans against the Islamization of the West," also said the controversial photo of Bachmann had been doctored.
At the same time, they announced that Tatjana Festerling, a former politician with the Alternative for Germany (AfD) party from Hamburg, had also joined their team. The organization was due to hold its 16th demonstration in Dresden on Monday night.
Stepped down, stepped back up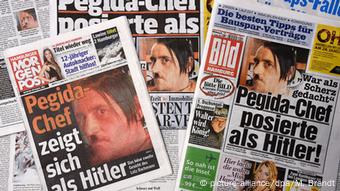 The image of Bachmann posing as Hitler led him to step aside
Bachmann stepped down a month ago after an image of him posing as Adolf Hitler was released and went viral, along with derogatory comments Bachmann made about migrants and refugees.
He became the first of a series of high-profile PEGIDA figures to step aside, with spokeswoman Kathrin Oertel also leaving the group shortly afterwards. Oertel went on to lead another group, Direct Democracy for Europe.
Supporter turnout for PEGIDA, which counted 25,000 people at a Dresden rally on January 12, has waned in the weeks following the leadership troubles. About 4,000 people showed up at a Dresden PEGIDA rally held on February 16. The number of counter-demonstrators has outnumbered PEDIGA supporters at rallies in many German cities.
se/gsw (dpa, AFP)