Israeli's conservative Likud Party passed a non-binding resolution Sunday, unanimously urging legislators to effectively annex Israeli settlements in the occupied West Bank — land that Palestinians want for a future state.
Such a move could accelerate procedures for the construction and expansions of settlements. The settlements are currently under military jurisdiction, giving Israel's defense minister the final say on building there.
Likud's proposal, should it become law, would institute civilian law over the settlements' construction and expansion.
Read more: Israel plans more settlement homes in West Bank
The settlers, however, are already subject to Israeli civilian law.
"We will now promote the recognition of our sovereignty of the Jewish settlements in Judea and Samaria (the West Bank). ... We must begin to enact this sovereignty, we have the moral right and obligation towards our settler brothers," Public Security Minister Gilad Erdan told a meeting of Likud's Central Committee.
The Central Committee is Likud's governing body, and several hundred delegates including ministers, legislators and party officials attended the meeting.
Prime Minister Benjamin Netanyahu, who did not attend, is not bound by the resolution and at least two decisions passed by the committee have been ignored by party leaders in the past.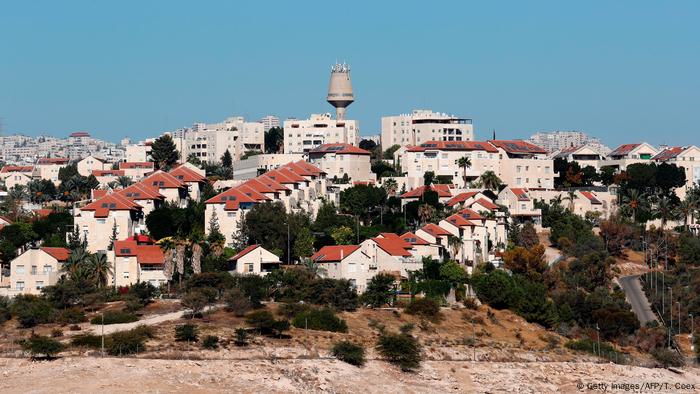 The Israeli settlement of Maale Adumim on the West Bank in October 2017
A future Palestinian state
The committee voted against the creation of a Palestinian state in 2002, but then-Prime Minister Ariel Sharon said he would not be bound by that decision, though he did little to bring a Palestinian state closer to fruition.
In 2009, Netanyahu voiced conditional support for the establishment of a Palestinian state in a landmark speech, though talks with Palestinians have largely stalled while he has led Israel's government.
Read more: UN says 'No Plan B to two-state solution'
Political analysts said the committee's decision could strengthen right-wing support for a prime minister in legal jeopardy. Netanyahu could seek a public vote of confidence as speculation grows that he could face a criminal indictment in an ongoing corruption probe. Parliamentary elections are not due until November 2019, but the allegations against Netanyahu and tensions within his governing coalition may compel him to call for an early vote. He insists he did nothing wrong.
Most countries consider the settlements illegal because they are built on land Israel captured in the Six Day War in 1967. Israel defends the settlements, citing biblical, historical and political links to the West Bank, in addition to security interests.
Read more: Trump's Jerusalem decision sparks backlash
There are about 400,000 Israeli settlers living among 2.8 million Palestinians in the West Bank. The Palestinians aspire to establish their own state in the West Bank and Gaza Strip with East Jerusalem as its capital.
bik/sms (Reuters, AFP, dpa)