After a long day's work, Somalis and foreigners like to catch up for a drink and chat at the Leaf Camp hotel in Mogadishu. The capital is busy and bustling despite the threat of attacks by the militant group al-Shabab, Suleiman Elmem, one of the patrons, told DW. Maka al Mukarama is the busiest street in Mogadishu, with overflowing traffic jams, pedestrians crisscrossing under the scorching heat, and crowded business outlets displaying all sorts of merchandise. Life seems to be normal, unlike in the past when al-Shabab was in control. "Three years ago, they used to control parts of Mogadishu — now they don't control anything, so their presence is insignificant," Elmem said.
Read more: Escape from al-Shabab: 'I was turned into a sex slave'
Al-Shabab not only controlled Mogadishu, but also large portions of the Somali countryside. Although an African Union-led military campaign has pushed them back, the insurgents remain a major security challenge in Somalia — where their ultimate goal is to establish an Islamic state.
"A journey of 1,000 miles (1,600 kilometers) begins with a step," Ama Shiddo, a Mogadishu-based real estate salesman, told DW. He is convinced that Somalia is headed for a bright future. "People are coming back, rebuilding their houses, universities and hospitals are opening, and business is booming more than ever in the past three years," he said.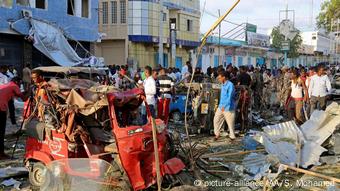 Bomb attacks occur often, especially in Mogadishu
Hope for future
Young people like Ahmed Abdul, who studied civil engineering in Uganda, are increasingly returning home to be part of the reconstruction process. "The Somali youth are now active, and they participate in development and reconstruction," Abdul said.
Further to the southwest, in the village of Ceelijaale, the Quick Impact Project initiated by the Uganda People's Defence Forces (UPDF) serving under the African Union Mission in Somalia (AMISOM), is helping young people develop their capabilities and talent. And they are excited about this initiative, an officer named Muhumuza said, pointing out the importance of targeting young people and keeping them busy "because, if you don't, that gives al-Shabab the chance to lure them in their ranks."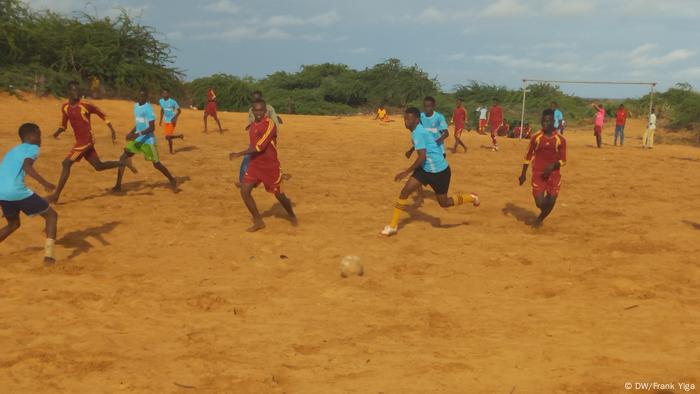 For peacekeepers it's important to keep young boys busy and off the streets to prevent them from joing al-Shabaab Islamists
In the framework of the project, 25-year-old Salim Hamis joined the local soccer team in Ceelijaale and is now team captain. Soccer keeps him from being bored, and "joining bad company," the jobless young man told DW, adding that he fervently hopes to play professional football in the future, maybe abroad.
Endless conflict?
In Buufo, a remote village southwest of Mogadishu where people tend their cows, goats, chickens and camels, 55-year-old Abdallah Bashir told DW that al-Shabab is still a threat, saying that is why people turn to the African Union for food, safety and education. The villagers can only go to UPDF-patrolled areas, he said.
Back at the AMISOM base, a group of women and children lined up for free medical treatment. Hadija is one of the patients who has come to seek medical treatment. "I have malaria, a headache, and a fever," she says. The soldiers say the turnout for free drugs to treat diarrheal diseases, malaria, respiratory tract infections, tuberculosis, and diabetes is always overwhelming.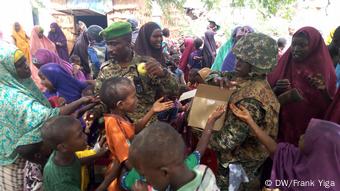 AMISOM troops give out goodies to locals in times of plenty
Apart from medical treatment, Somalis also receive food handouts that the soldiers share when they have plenty of provisions. Despite such increasing threats from al-Shabab, Brigadier General Paul Lokech, commander of the Ugandan contingent in AMISOM sector 1, concludes that the people of Somalia are now enjoying relative peace and stability, apart from a few isolated areas where the peacekeepers are stepping up their operations.