Libyan rebels continued negotiations with tribal forces for the peaceful surrender of Sirte on Monday, the hometown and one of the last strongholds of deposed dictator Moammar Gadhafi.
Rebel forces had been closing in on Sirte after liberating and largely securing the capital, Tripoli, last week. Sirte is located on the Mediterranean coast halfway between Tripoli, in the west, and Benghazi, in the east.
"We are negotiating with the tribes for Sirte's peaceful surrender," Mohammed al-Fortiya, a rebel commander in the western city of Misrata, told the news agency AFP.
A spokesman for the rebel National Transitional Council (NTC) warned that time was not on the side of the city's tribal leaders.
"The negotiations will not go on forever," spokesman Mahmud Shammam said. "The talks are still going on … we would like to unify Libya very quickly."
NATO warplanes struck Sirte for the third day on Sunday, a spokesman for the western military alliance told the news agency Reuters in Brussels .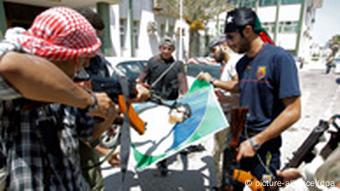 Rebel officials have said Gadhafi will receive a fair trial
"We're paying close attention to what's happening in Sirte, because we know that there are remnants of the regime that are there," the spokesman said.
Fair trial
Although Gadhafi's whereabouts remain unknown, rebel officials have rejected the idea of negotiating with him, saying he is a criminal who must be brought to justice.
"We did not negotiate when we were weak, and we won't negotiate now that we have liberated all of Libya," Shammam said.
As concern circulates that the rebel advance could deteriorate into a campaign of revenge acts against regime loyalists, NTC leader Mustafa Abel Jalil promised on Saturday that Gadhafi and his associates would be treated fairly.
"We call on Moammar Gadhafi and his associates to surrender so we can protect them and spare them from illegal execution," Jalil said. "We guarantee them a fair trial, whatever their position."
Al-Megrahi found
On Sunday, the mastermind of the 1988 Lockerbie bombing that killed 270 people, Abdelbaset al-Megrahi, was located in Tripoli, reportedly on his deathbed, according to US broadcaster CNN.
The terminally-ill man served eight years in a Scottish prison for orchestrating the bombing of a Pan Am jet that blew up over the town of Lockerbie. He was released in 2009 on humanitarian grounds after he was diagnosed with cancer. He was welcomed back to Libya a hero and was seen as a support of Gadhafi.
Prisoners missing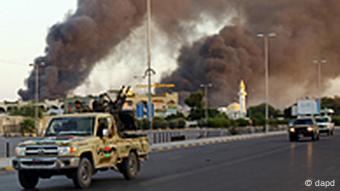 Libya's civil war has taken a heavy toll on the country
Meanwhile, rebel officials in Benghazi expressed concern about the fate of around 50,000 prisoners who remained unaccounted for. Rebel military spokesman Ahmed Omar Bani told reporters that 10,000 prisoners had been freed from Gadhafi's jails since the fall of Tripoli, but many more were missing.
"The number of people arrested over the past months is estimated at between 57,000 and 60,000," Bani said. "Between 10,000 and 11,000 prisoners have been freed up until now ... so where are the others?"
Over the weekend, New York-based Human Rights Watch accused Gadhafi loyalists of executing civilians as the rebels advanced into Tripoli. The rights group said the evidence it had collected so far "strongly suggests that government forces went on a spate of arbitrary killing as Tripoli was falling."
Author: Spencer Kimball (AFP, Reuters, dpa, AP)
Editor: Nancy Isenson