With the #MeToo movement making almost daily headlines, the Litprom association of German professionals in the fields of publishing, journalism, literary studies and criticism has invited 12 female writers from all over the world to the Literaturhaus Frankfurt to redefine female world literature.
"What sounds abstract at first is much more concrete when you look at the numbers," said Anita Djafari, head of Litprom. When it comes to literature prizes, published authors and translations, she pointed out that only 25 to 30 percent are attributed to women.
Even at the Frankfurt Book Fair, "70 percent of authors were men last year," said Juergen Boos, the book fair's director. "I was shocked to find out what it is really like."
Global works
The Litprom aims to make literature from Africa, Asia, Latin America and the Arab world available to readers in Germany — in German. The association was launched at the Frankfurt Book Fair in 1980, the year it focused on creative writing from sub-Saharan Africa.
"It's unthinkable today that one would lump all the works from so many different countries in one group," said Anita Djafari. She added that back then, the region was actually known as "Black Africa," and that change in terminology shows that progress has been made.
Litprom doesn't only lobby for women but, with financial support from the German Foreign Ministry, also works with publishers to ensure quality translations of books by male and female authors from these overlooked regions. An award only for non-European women, however, was launched 30 years ago, the LiBeratur Prize, which will be handed out at this year's Frankfurt Book Fair in October.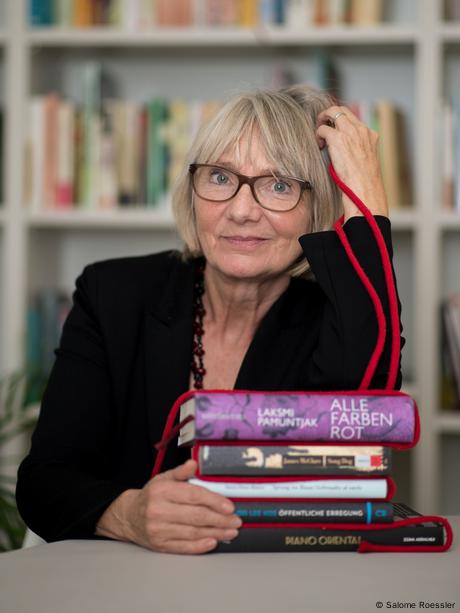 Anita Djafari advocates for non-European female writers
30 years of discussion
A unique program is underway to celebrate the anniversary. Laureates from past years will gather on January 26 and 27, including Fariba Vafi from Iran (2017), the Indonesian poet and journalist Laksmi Pamuntjak (2016), Canadian novelist Madeleine Thien (2015), Raja'a Alem from Saudi Arabia (2014), Argentine Claudia Pineiro (2010) and Mayra Montero from Cuba (1998).
Is writing in itself a form of female empowerment, even a rebellion? Ken Bugul from Senegal is certainly one of the rebels, as is Indian-born Meena Kandasamy. Dima Wannous from Syria, Kenya's Yvonne Adhiambo Owuor and Lina Meruane from Chile will also take part in the program, questioning female role models in the framework of patriarchal suppression. Award-winning German writer, translator and publisher Zoë Beck will focus on women and violence, while Korean-born German-language author Anna Kim will take a look at the meaning of home between local and global influences.
Empowering women
"Globalization has reached people; many are on the move and choosing new places to live," said Ines Pohl, DW's editor-in-chief and patron of the award.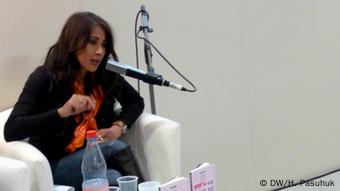 Laksmi Pamuntjak, an Indonesian poet and novelist, won the LiBeratur award in 2016
"The fact that cultures converge on many levels calls for understanding from both sides, and often enough, it's the women who hold families together and integrate them in a new surrounding after an escape or migration. The writers supported by Litprom make an incredibly important contribution to a better understanding and a peaceful coexistence."
But even today, female writers have to position themselves against inequality and discrimination. Litprom opposes the far-right, xenophobia and racism, said Djafari, at a time when a rise in nationalism and populism make vying for attention as well as production conditions in many countries increasingly difficult for female writers.
Read more: 100 days of #MeToo
Women, power, sexuality
The anniversary program doesn't make explicit mention of the #MeToo debate. Women, power, sexuality — these issues are mainstays in women's literature.
"Take Han Kang's 'The Vegetarian,' a novel many people know, about a woman who experiences violence and has no choice but to resort to silent rebellion," said Djafari. "The theme is always present, be it in books like this or in works like that of Fariba Vafi, last year's honoree, which describes everyday life."
While novels should not be a substitute for political pleas, they can influence social processes with literary and verbal force. The books nominated annually for the LiBeraturpreis and the award-winning female authors are proof of that.