"Only those who change stay true to themselves," sang the German poet and folk singer Wolf Biermann 20 years ago at a legendary concert in Leipzig. His line rings true today as the Leipzig Book Fair begins drawing upon Leipzig's rich musical history in its run-up.
For the first time in its centuries-long tradition, the Book Fair will feature a special presentation area for music publishing houses.
World's oldest music publisher
The Book Fair draws an annual crowd of about 150,000, according to its director, Oliver Zille, who noted that many of the guests are young and well-educated.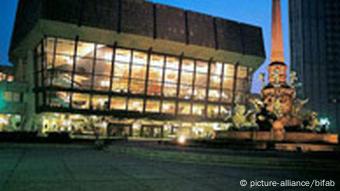 The Gewandhaus building houses Leipzig's celebrated orchestra

"Thirty percent of our guests are younger than 20, and we have 15,000 teachers in attendance," Zille said. "Of course, we look for clusters that fit in with our crowd's interests and skills."
Music publishers represent one such cluster at the Book Fair and also call attention to Leipzig's unique musical history. The city has housed world-famous musicians, composers and conductors for centuries, so it's no wonder that many top-notch music publishers have made Leipzig their home.
Breitkopf and Haertel - the world's oldest music publishing house - is based in Leipzig, along with well-known houses like C.F. Peters and Friedrich Hofmeister, which have been doing business at their founding sites since the early 19th century.
Newcomers join established houses

In recent years, several new and specialized publishers in Leipzig have established themselves in the national and international music markets. At the Book Fair, they present sheet music, literature and sound recorders alongside venerable houses like Schott Music, Germany's largest music publisher. The publishers are also using the chance to inform visitors about early education with music.
"We arranged all of the music publishers in one place," Zille said. "The point is to create a moment where the light goes on for people. That's where I need to head for music."
The fair is also hosting a music cafe, where guests can take a break and become inspired to check out the city's many musical sites.
The Bach Archive, the houses of Mendelssohn, Schumann and Grieg, and the Museum of Musical Instruments at the University of Leipzig are among the most authentic places to recall the city's musical past. These institutions house collections and conduct research, but they also host concerts, just like the city's renowned St. Thomas Church and Gewandhaus Orchestra.
History often overlooked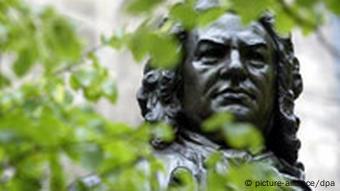 A statue honoring Bach stands outside of the Thomaskirche in Leipzig

"We have been so blessed [with musical history], in fact, that not as many people know this about the city as we would like," said Juergen Ernst, director of the Mendelssohn House in Leipzig.
The Book Bair is helping to call attention to the history of music in Leipzig, where the wealthy and artistically-minded populace encouraged famous composers to make Leipzig their home - including Mendelssohn, Telemann, Bach, Mahler and Janacek.
Starting in 2011, a so-called "trail of notes" will serve as a pathway for tourists who want to visit the composers' residences and work places and get to know Leipzig's musical roots.
The Leipzig Book Fair runs from March 18-21.
Author: Silke Bartlick (gsw)
Editor: Kate Bowen